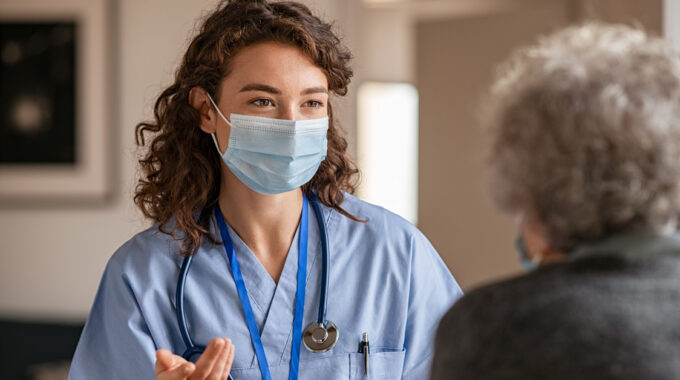 COVID-19 Patients Fare Well in Home Health
Recently, researchers from the University of Pennsylvania and Villanova University gave us the first, large, peer-reviewed report on how patients hospitalized for COVID-19 fare if they are discharged to home health. As the impending scope of the pandemic became evident in the USA, Harvard Medical School fellow Vishal Arora, MD recommended expanded use of home health to help manage the surge of COVID-19 patients.1 In addition to freeing beds in facilities for more acute cases, Drs Arora and Fried speculated that the reduced human contact in the home environment combined with the lower clinician-to-patient ratios would help limit spread of the disease. However, with the novel virus, care planners and home health referral sources could only speculate how COVID-19 patients would fare in home health. There are signs that care planners have been cautious about using home health. Fortunately, we now have data showing that even COVID-19 patients with poor symptom and functional profiles fare well in home health.
Home Health for COVID-19 Started Low but Is Rising
Nationally, the percentage of COVID patients discharged from the hospital to home health is up 36% in just the past eight months.2 However, the percentage still falls short of normal. While roughly one in four hospital discharges results in a home health referral, only 15% of patients hospitalized with COVID-19 have been discharged to home health. In general, the utilization rate of skilled nursing facilities after hospitalization is usually about the same as home health, but for COVID-19, patients are 33% more likely to find themselves in a nursing home compared to a home health agency.2.3 Care planners may be preferring the closer supervision offered by facilities given the novel nature of this pandemic.
Measuring COVID-19 Outcomes in Home Health
We now have data to address some of those concerns. In November, the Annals of Internal Medicine published a study following 1,409 COVID-19 patients through Medicare-certified home health.4 Compared to home health patients in general, the COVID-19 patients referred to home health were more dependent in activities of daily living (ADLs) and had more burdensome symptoms. They were dependent in an average of six ADLs at home health admission (such as bathing or walking). Most presented with anxiety and painful breathing. Many complained of cognitive limitations and constant or daily pain. In addition to COVID-19, most had chronic conditions making the situation worse. These included hypertension, diabetes, and chronic pulmonary disease.
The average home health episode lasted 32 days and consisted of 11 visits (52% from nursing and 38% from therapists). By the end of the home health episode, patients averaged only one dependency in ADLs and scored significantly better in all symptoms. The mortality rate during the home health episode was low, 1% compared to the normal 3% across all home health patients. Similarly, the rehospitalization rate was low, 10% compared to the 15.6% 30-day rehospitalization rate among all home health patients. The data suggest that even patients with low independence in ADLs and relatively high symptom burden fare well with home nursing, home therapies, and 24-hour on-call service.
References:
Arora V, Fried J. "How Will We Care For Coronavirus Patients After They Leave The Hospital? By Building Postacute Care Surge Capacity, " Health Affairs Blog, April 13, 2020. DOI: 10.1377/hblog20200408.641535
Centers for Medicare & Medicaid Services. Preliminary Medicare COVID-19 Snapshot. Accessed at www.cms.gov/research-statistics-data-systems/preliminary-medicare-covid-19-data-snapshot on February 2, 2021.
Trella Health. Industry Trend Report; 2019.
Bowles KH, McDonald M, Barrón Y, Kennedy E, O'Connor M, Mikkelsen M. Surviving COVID-19 After Hospital Discharge: Symptom, Functional, and Adverse Outcomes of Home Health Recipients. Annals of Internal Medicine. 2020 Nov 24.