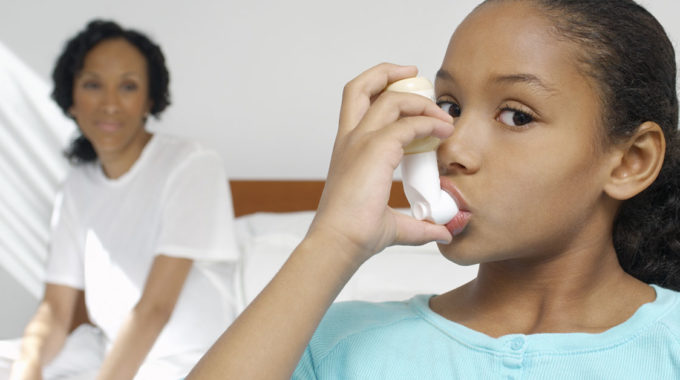 African American Children Ten Times More Likely to Die of Asthma. New Research Shows Home Visits as a Solution.
In the majority of cases, families manage childhood asthma with medication and lifestyle changes. This is not always the situation, though. For millions of children in the U.S., asthma is not being managed successfully. This results in ER visits, hospitalization, sleep interruption, school disruption, lost work days for parents, and even the avoidable death of children. Poverty ranks as the most important risk factor for poorly controlled childhood asthma.1 When a person's income is lower, the home tends to be less healthy for breathing, and the person may have less access to medicine and medical guidance.
African American Children at Higher Risk for Childhood Asthma Morbidity
African American children are particularly hard-hit by the problem of out-of-control asthma. Firstly, the prevalence of asthma among them is 60% higher than among non-Hispanic white children. Moreover, African American children with asthma prove 4.5 times more likely to end up in the hospital. Most importantly, African American children under the age of 15 are ten times more likely to die from out-of-control asthma.
How to Overcome Out-of-Control Childhood Asthma
Research has been showing us a very good solution for more than a decade. Trained personnel visit homes and look for a wide variety of asthma triggers. They then give families individual guidance about what they found. The consultants also help with case management where necessary to improve access to medicine and medical care. This approach has been dubbed a "multicomponent, multi-trigger intervention" or MCMT intervention for short. MCMT interventions have been found to improve productivity and quality of life,2 in a cost-effective way.3 MCMT interventions have even been recommended by the Community Guide for Preventative Services.4 Nevertheless, these services have not been widely implemented in real-world practice.
Real World Fix for Managing Childhood Asthma
Earlier this year, the journal Preventing Chronic Disease, published a small study where a group of employees at an Augusta, Georgia health department demonstrated real world implementation.5 Their results were striking. Their program consisted of six visits. Home visits used the Healthy Home assessment tool available from the EPA. Family education followed the Wee Breathers asthma curriculum, which is also freely available online. One year after the six assessment and education sessions, the health department measured these results:
The rate of well-controlled asthma grew from 20% to 85%
Children waking up from asthma in the night more than once per month fell from 92% to 42%
Children with no activity restrictions improved from 6% to 41%
Missed school days reduced by 58%
Missed work days for parents dropped 65%
ER visits dropped 72%
Hospitalizations dropped 50%
Is the Home Health Industry Ready to Help with Childhood Asthma?
Medicaid presently pays healthcare providers to implement programs such as these in a number of ways, but not in one, clearly defined program. Few healthcare providers are currently structured to provide repeated home visits for home assessment, patient assessment, patient education, care coordination, and follow-up. Medical home health agencies stand out as a provider type already designed for this these services. They routinely send nurses to the homes of patients for these types of activities. Across the country, a few home health agencies are already implementing childhood asthma programs, but most are not.
One hurdle is familiarity with pediatrics. Most home health agencies specialize in geriatrics. Some agencies may prefer orientation for their nurses before feeling qualified to deliver the interventions, but not all. The nurses in home health agencies come from varied backgrounds, and some agencies may already be staffed for this. The other hurdle is payment. Medicaid pays home health agencies for home visits, but, in some states, Medicaid pays much less than other insurances. Depending on the state and the home health agency, some home health agencies may have to operate at a loss to deliver asthma management services under Medicaid reimbursement. In short, the home health industry is already structured to deliver these services, but experience, payment, and tradition may be preventing many agencies from doing this routinely. Care planners who are looking for a team to implement a childhood asthma program should call the local home health agencies. One may be fully ready to implement this program.
References:
Vo P, Bair-Merritt M, Camargo Jr CA, Eisenberg S, Long W. Individual factors, neighborhood social context and asthma at age 5 years. Journal of Asthma. 2017 Mar 16; 54 (3): 265-72.
Crocker DD, Kinyota S, Dumitru GG, Ligon CB, Herman EJ, Ferdinands JM, Hopkins DP, Lawrence BM, Sipe TA, Task Force on Community Preventive Services. Effectiveness of home-based, multi-trigger, multicomponent interventions with an environmental focus for reducing asthma morbidity: a community guide systematic review. American Journal of Preventive Medicine. 2011 Aug 1;41(2):S5-32.
Nurmagambetov TA, Barnett SB, Jacob V, Chattopadhyay SK, Hopkins DP, Crocker DD, Dumitru GG, Kinyota S, Task Force on Community Preventive Services. Economic value of home-based, multi-trigger, multicomponent interventions with an environmental focus for reducing asthma morbidity: a Community Guide systematic review. American Journal of Preventive Medicine. 2011 Aug 1;41(2):S33-47.
Task Force on Community Preventive Services. Recommendations from the Task Force on Community Preventive Services to decrease asthma morbidity through home-based, multi-trigger, multicomponent interventions. American Journal of Preventive Medicine. 2011 Aug;41(2 Suppl 1):S1.
Ebell MH, Hall SP, Rustin RC, Powell-Threets K, Munoz L, Toodle K, Meng L, O'Connor J. Peer Reviewed: A Multicomponent, Multi-Trigger Intervention to Enhance Asthma Control in High-Risk African American Children. Preventing Chronic Disease. 2019;16.