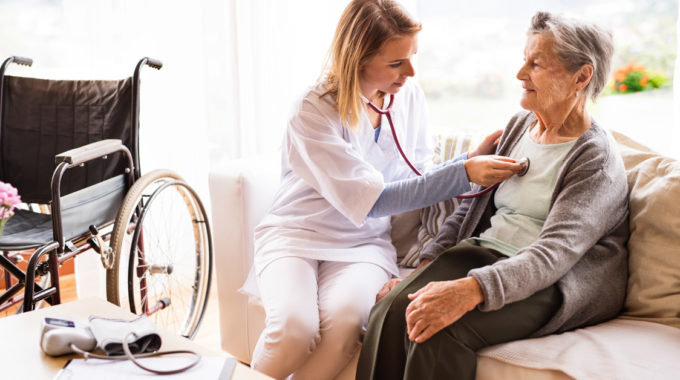 Patients Denied Home Health after Nursing Home Stays Experience 32% Greater Mortality
According to a study published recently in the Journal of the American Geriatrics Society, heart failure patients who go home from a skilled nursing facility (SNF) without home health prove 32% more likely to die compared to patients who receive home health. Disturbingly, researchers also measured that only two out of ten heart failure patients receive home health after their SNF stays.
SNF to HH Rehospitalization and Mortality Data
Himali Weeahandi, MD, of the NYU School of Medicine, and her research colleagues examined the Medicare records of every person age 65+ who was hospitalized for heart failure and then discharged to an SNF. Between 2012 and 2015, that was 67,585 discharges. Eight out of ten patients did not receive home health. One out of four patients denied home health were rehospitalized within 30 days. Compared to patients who received home health, those denied home health proved 11% more likely to be rehospitalized, were rehospitalized sooner after SNF discharge, and proved 32% more likely to die.
Why Are So Many Patients Denied Home Health?
Medicare's homebound criterion may have contributed to the low use of home health. For Medicare to pay 100% of allowable charges for home health, patients must meet Medicare's definition of homebound.
Another strong possibility may be that care planners viewed home health as unnecessary since patients already received post-acute care at the SNF. SNF care is known to independently reduce the risk of rehospitalization for heart failure.2 Discharging from the hospital to home health is also known to reduce rehospitalizations.3 However, there is less data measuring the effect of home health after an SNF stay. The current study gives strong evidence that home health should receive more consideration even after a patient receives SNF care.
A Fix May Already Be Underway
The low utilization of home health suggests an easy opportunity to balance the risks and hazards for people discharged from SNF. Simply refer more people to home health if they qualify. Medicare was already aware of these problems and making moves to fix them. In late 2018, the Centers for Medicare and Medicaid Services launched the SNF Value-Based Purchasing Program. This started paying skilled nursing facilities more like hospitals, including financial penalties for higher-than-average rehospitalization rates. SNFs responding to the financial incentives may already be implementing strategies to improve care post-discharge.
Be Your Own Advocate
The takeaway message here is for patients and families to be their own advocates. Most people going home from an SNF have a need for skilled follow-up. Some of that follow-up should be done promptly with the doctor. Others may additionally qualify for home health. If a person discharged from an SNF meets homebound criteria, he or she is not only qualified for home health but entitled to it. Medicare pays 100% of allowable charges. It is not wasteful to ask for home nursing or rehab. People who qualify for home health but do not receive it tend to cost Medicare thousands of dollars more over the next 12 months. Ask for home health when you qualify.
References:
Weerahandi H, Bao H, Herrin J, Dharmarajan K, Ross JS, Jones S, Horwitz LI. Home Health Care After Skilled Nursing Facility Discharge Following Heart Failure Hospitalization. Journal of the American Geriatrics Society. 2020 Jan; 68 (1): 96-102.
Werner RM, Coe NB, Qi M, Konetzka RT. Patient outcomes after hospital discharge to home with home health care vs to a skilled nursing facility. JAMA Internal Medicine. 2019 May 1;179(5):617-23.
Murtaugh CM, Deb P, Zhu C, Peng TR, Barrón Y, Shah S, Moore SM, Bowles KH, Kalman J, Feldman PH, Siu AL. Reducing readmissions among heart failure patients discharged to home health care: Effectiveness of early and intensive nursing services and early physician follow‐up. Health Services Research. 2017 Aug;52(4):1445-72.