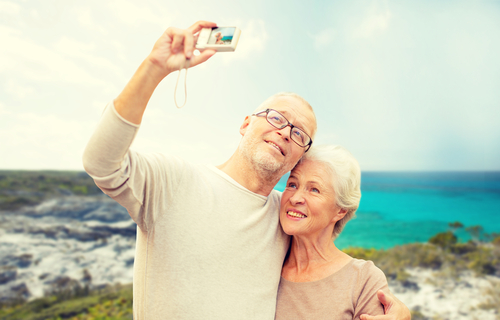 Top 10 Travel Destinations in the U.S. for Seniors in 2018
Spring is here, and for many seniors, that means planning one or more trips for leisure. One of the joys of retirement is the ability to travel anytime. Some will enjoy flying to new and exotic places; others will prefer to take an R.V. cross-country to explore the rich history of our nation. Whatever your preference, some destinations are more appropriate for seniors than others. A wild night in Las Vegas, for example, is probably not what most seniors are looking for in a travel destination. Instead, travel destinations that offer good food, varied sights, and friendly people will top the list for seniors. Additionally, those with limited mobility will require that the destination be prepared to accommodate them.
Here are the 1-800-HOMECARE™ Top 10 Travel Destinations in the U.S. for Seniors 2018:
10. Oahu Island, Hawaii.
Oahu is home to the city of Honolulu, and the most populated island in Hawaii. The island features a mix of things to see, including many natural wonders and cultural heritage sites. Seniors will find all the amenities of the 21rst century to make them feel at home as they explore the richness of the island. There is the famous North Shore with awe-inspiring waves, as well as the Museum at Pearl Harbor. 
9. Colorado Springs
Colorado Springs, also known as Olympic City, is a natural wonder of the U.S. Nestled in the famous Rocky Mountains, the city boasts many natural wonders and outdoor activities. Seniors will find golf courses abound, as well as many other sports-related amenities such as tennis and pickle-ball courts. Beyond the city limits, visitors will find hiking trails for all levels (many accessible for people with mobility issues) as well as many fishing and camping sites all along the river. In the city, there are many acclaimed restaurants for fine dining and a night out on the town. 
8. New Orleans
If it's rich culture and history you're after, look no further than New Orleans, LA. The city is a national treasure and one of the world's most fascinating cities. If the museums and heritage sites are not enough, you can enjoy the sumptuous cuisine, culture of music, and vibrant nightlife. Spring and summer are especially good times to visit because of the frequent festivals all across the city. 
7. Austin
Austin, TX has something for every taste. The city is home to several sports teams and motorsports parks, as well as many sporting facilities for those who enjoy golf and other leisurely sports. There is also a significant number of awe-inspiring outdoor attractions, including lakes, caves, and the world's most massive bat migration. For those who prefer city life, the city boasts a vibrant culture of arts and attractions, as well as regular music and cultural heritage festivals.
6. San Diego
San Diego, CA is one of the most perfect places for seniors to visit. The city is kept cool by an ocean breeze, so it never feels quite as hot there as in neighboring L.A. Seniors will find a wide variety of activities, including a world-famous zoo, Seaworld, and whale watching! There is also a rich culture with a strong latin flare, and the cuisine around the city is one of the most renowned in the country. 
5. Tuscon
For those who prefer to travel off the beaten path, there's Tuscon, AZ. Tuscon is home to many natural wonders, including the cascades of Seven Falls at Sabino Canyon, the majestic cacti of Saguaro National Parks, the high-pine and aspen forests of Mt. Lemmon, and the cool, otherworldly depths of Colossal Cave Mountain Park or Kartchner Caverns State Park. The city also features some of the best golf courses in the country, as well as guided tours of the surrounding region.
4. Indian Wells
Indian Wells, CA is a world-famous destination. It is home to great outdoor wonders, as well as many outdoor activities. Seniors who play tennis will find this destination particularly attractive for the world-class Indian Wells Tennis Tournament. Due to the remoteness of the location and sparse population, the Indian Wells Tennis Tournament is a place where visitors can be up close and personal with famous tennis players from around the world. 
3. Bend, OR
Bend, OR is a small town nestled in the Cascade mountain range the boasts a few national records. First, they have the highest per capita number of breweries in the country. Second, they have the highest per capita number of public parks within city limits. That doesn't even count the endless tracks of national forest that surround it. The city has many activities including weekly summer festivals, the famous Cycle Pub, and other fun and quirky things to do. It is a place where the water and air are pristinely clean, a relief for those who suffer from lung-related ailments. Although small, Bend has been featured in numerous travel publications as a top destination in the country.
2. Virginia Beach
Virginia Beach, VA is a major destination for seniors on the East Coast. From quiet beachfront retreats to the boardwalks and beachfront amusement parks, there is something for every taste. It is also within driving distance of many of the nation's most famous landmarks and heritage sites. For those with a greater interest in nature, there is the famous Virginia Beach Aquarium, as well as the majestic Chesapeake Bay nearby where naturalists can spend their days birdwatching, fishing, and exploring. 
1. Alaskan Cruise
Cruises are a top choice for seniors because they offer so many activities while visiting exciting parts of the world. Alaskan cruises are the unique among the cruise lines because of the beauty and grandeur of Alaska itself. Visit melting ice shelves, pristine coastlines, and a wild ocean of whales and dolphins, all from the comfort of a modern cruise line fit with shows, restaurants, and modern amenities. Best of all, Costco members can get deep discounts on the cruises.