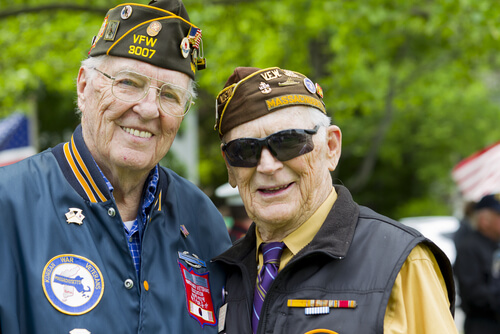 What Are the Senior Care Benefits for Veterans?
Time served in the military may have been decades ago, but senior veterans and their spouses can take advantage of healthcare benefits to assist them in the later stages of life. Many seniors miss out on these benefits because they don't know about them, or the application process may seem too complex. It is worth it to explore the various health benefits available for aging veterans. There are several programs and benefits that senior veterans and their families can enroll in to help with their care needs and costs.
What Are the Senior Care Benefits for Veterans?
The first step is to determine what level of care or style of living would be most beneficial. Does the veteran suffer from mobility issues, dementia, or other cognitive conditions? Would the veteran be prone to falls or wandering offsite? Maybe the veteran prefers a residential setting where family and friends are welcome to visit often. Perhaps the veteran needs to stay in a certain area of town to be close to medical appointments, family or a particular caregiver or companion. A good resource to help in this evaluation process is this worksheet.
Once the level of care is determined, a visit to the United States Department of Veterans Affairs (VA) website can be a way to explore the available benefits for veterans. As part of the standard VA Medical Benefits Package, seniors have access to the following home and community based services:
Skilled home health care
Adult day health care
Respite care
Home-based primary care
Homemaker home health aide
Telehealth care
Hospice care and telehealth care are provided at no cost to the veteran if they meet the clinical need for the service. Adult day health care, skilled home health care, homemaker home health aide, palliative care, home-based primary care and respite care may require a copay based on the veteran's service-connected disability status and financial information. All of these services can be used in conjunction with other home and community based services to ensure the veteran's needs are met.
To learn the amount of copays, a VA social worker or case manager can assist in the completion of the Application for Extended Care Benefits (VA Form 10-10EC). To learn more about the options for paying for long-term care through the VA visit the section on Geriatrics and Extended Care (GEC).
Aid and Attendance Benefit and the Housebound benefit
There are additional benefit programs available to those veterans who are already eligible for basic VA pensions. These include the Aid and Attendance benefit (A&A) and the Housebound benefit. According to the VA website, A&A is a special benefit for war era veterans and their surviving spouses. It is a tax-free benefit designed to provide financial assistance to help cover the cost of long term care in the home, in an assisted living facility or in a nursing home. This benefit is for those veterans and surviving spouses who live in a nursing home or are mentally or physically incapacitated, are bed ridden, have poor eyesight, or require the regular attendance of another person or caregiver in at least two of the daily activities of living such as bathing, dressing, eating, toileting, and transferring.
The Housebound benefit offered by the VA is for veterans who are confined to home or another residential setting due to a permanent disability. To learn more about the eligibility requirements and to apply for these veteran benefits visit VeteransAid.org online.
Medicare and Medicaid
Not to be overlooked as an option that veterans can benefit from is federal and state medical care assistance. Similar to most private health insurance plans, Medicare will pay for services in a Skilled Nursing Facility and some home health services such as rehabilitation and various therapies, daily living assistance and medical products or equipment for use at home. Medicare is offered by the federal government and different Medicare plans may charge different copays or have different eligibility standards.
If the only type of care needed is custodial care (personal care such as dressing or bathing), then Medicare will not pay for a nursing home or home care. Medicare may cover medical and rehabilitation services provided in an Assisted Living Facility, but typically will not cover the costs of the facility such as rent and meals.
Medicaid is medical assistance offered by each state. Nursing home services, and home and community based services (see bullets above) are covered for eligible veterans with some stipulations. The services covered by Medicaid vary by state. For example, some states cover Assisted Living Facility costs, while other states do not. To find out about requirements and rates for both Medicare and Medicaid, visit the LongTermCare.gov website.