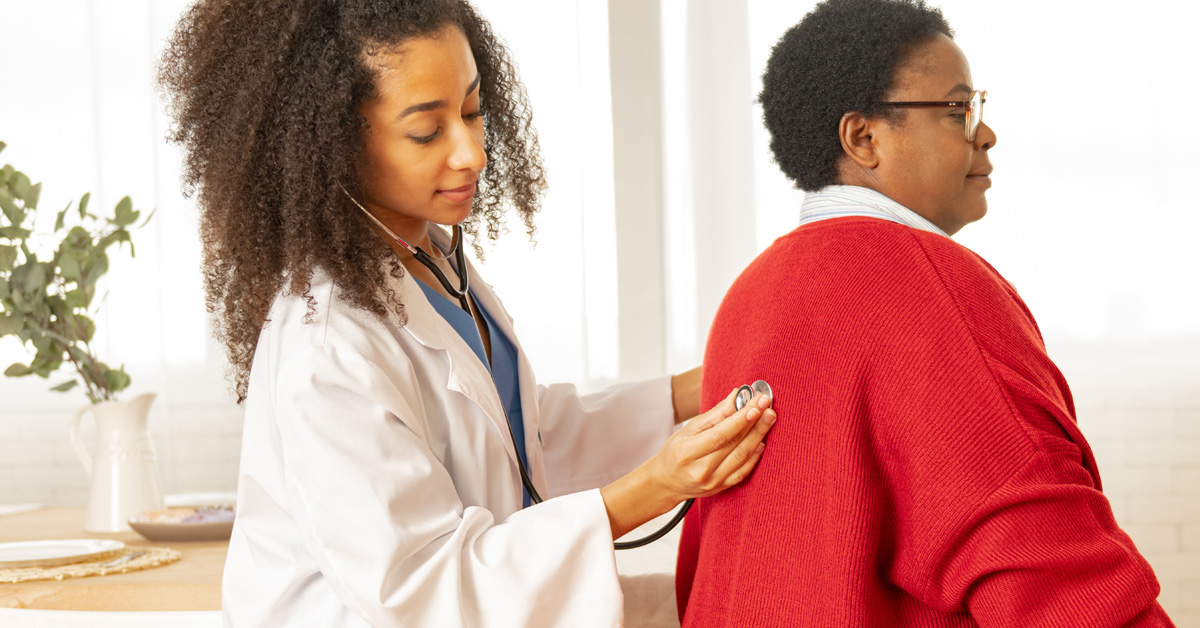 Aspiration Pneumonia? Remember Home Health.
Pneumonia is a common infection of the lungs, causing the air sacs in the lungs to fill with fluid or pus. When the infection is caused by liquid or food being inhaled, instead of being swallowed, the condition is called aspiration pneumonia (AP). The good news is that hospitalization for aspiration pneumonia appears to be on the decline, as does the mortality rate.1 However, despite being common, AP is potentially serious, especially among the elderly. AP is typically treated at the doctor's office, hospital, and skilled nursing facility. One good – but perhaps underutilized – option is skilled home health. Here are some things to keep in mind about home health and aspiration pneumonia.
Medicare Pays 100% for Aspiration Pneumonia Treatment by Home Health
With home health, a person's treatment by nurses and therapists occurs through home visits. When patients at home need more help with activities of daily living due to the condition, home health can even send aides to help with baths and other personal care tasks. What's more, when patients qualify by being homebound and having a skilled need, original Medicare pays 100% of allowable charges for the home health services. Qualified patients have no deductible to meet, no copays, and no cost-sharing of any kind for home health.
Home Health Nutritional Intervention for Aspiration Pneumonia
Among elderly patients with AP, difficulty swallowing commonly leads to malnutrition.2 This can compromise rehabilitation outcomes.3 Fortunately, malnutrition interventions led by home health nurses have been shown to reduce all-cause rehospitalization by 24% while reducing 90-day medical costs by $1,500 per patient.4 Teaching and facilitation for certain nutritional supplements are a consistent component of such interventions (for instance Ensure®, Glucerna®, or Nepro® according to individual patient need).
In-home Physical Rehabilitation for Aspiration Pneumonia
Bed and wheelchair rest may be a necessary component of the medical plan in AP. However, in bed rest, patients age 67+ lose muscle mass nearly three times faster than younger patients.5 Unfortunately, in elderly patients, such rest is associated with decreased heart volume, increased insulin resistance, skeletal muscle atrophy, muscle denervation, triggering of neurodegenerative processes, decreased oxygen uptake capacity, and reduced independence in activities of daily living.6 Offering rehab to seniors after bed rest improves this situation. Among patients with AP, early physical therapy improves ADLs and lowers readmission rates.7,8
Home-based Pulmonary Rehabilitation for Aspiration Pneumonia
In-home pulmonary rehabilitation for AP can include positioning, postural drainage, sputum elimination assistance, respiration training guidance, and upper limb exercises to facilitate the recruitment of ventilator muscles. Among serious cases of AP, research has shown that early physical therapy, sometimes in combination with this type of pulmonary rehabilitation, reduces the 30-day mortality rate 28% (from 7.1% to 5.1%).9
In-home Dysphagia Rehabilitation
Dysphagia refers to the condition of having difficulty swallowing due to dysfunction in the throat or esophagus. In-home dysphagia rehabilitation may include behavioral modification (for example: positioning during feeding, food texture, etc.). In-home rehab may also include various types of swallowing exercises. Such interventions are known to improve oral intake.10
Observation and Assessment
When a doctor deems that a patient's condition has a reasonable potential of worsening, the doctor can order three weeks of observation and assessment by a home health nurse. There must be potential that the care plan would change based on the possible changes in condition (for example: adjusting the oxygen flow or admitting the patient to the hospital). At the end of the three weeks, if the doctor deems that there continues to be a likelihood of an important change in health status, the doctor can order continued observation and assessment.
Conclusion: Home Health for Aspiration Pneumonia
If you or someone you care for struggles with aspiration pneumonia, remember home health. Home health may be available to facilitate faster discharge from a hospital or nursing facility. Moreover, if a person is being treated for aspiration pneumonia in the community, home health can layer in important services such as physical rehab, pulmonary rehab, dysphagia rehab, and nursing observation – all working together to ensure the best possible medical outcomes.
References
Wu CP, Chen YW, Wang MJ, Pinelis E. National trends in admission for aspiration pneumonia in the United States. Annals of the American Thoracic Society. 2017 Jun;14(6):874-9.Momosaki R. Rehabilitative management for aspiration pneumonia in elderly patients. Journal of General and Family Medicine. 2017 Mar;18(1):12-5.Wakabayashi H, Sashika H. Association of nutrition status and rehabilitation outcome in the disuse syndrome: a retrospective cohort study. General Medicine. 2011;12(2):69-74.
Riley K, Sulo S, Dabbous F, Partridge J, Kozmic S, Landow W, VanDerBosch G, Falson MK, Sriram K. Reducing Hospitalizations and Costs: A Home Health Nutrition‐Focused Quality Improvement Program. Journal of Parenteral and Enteral Nutrition. 2020 Jan;44(1):58-68.
Sourdet S, Lafont C, Rolland Y, Nourhashemi F, Andrieu S, Vellas B. Preventable iatrogenic disability in elderly patients during hospitalization. Journal of the American Medical Directors Association. 2015 Aug 1;16(8):674-81.
Narici M, De Vito G, Franchi M, Paoli A, Moro T, Marcolin G, Grassi B, Baldassarre G, Zuccarelli L, Biolo G, Di Girolamo FG. Impact of sedentarism due to the COVID-19 home confinement on neuromuscular, cardiovascular and metabolic health: Physiological and pathophysiological implications and recommendations for physical and nutritional countermeasures. European Journal of Sport Science. 2020 May 12:1-22.
Yagi M, Yasunaga H, Matsui H, Fushimi K, Fujimoto M, Koyama T, Fujitani J. Effect of early rehabilitation on activities of daily living in patients with aspiration pneumonia. Geriatrics & Gerontology International. 2016 Nov;16(11):1181-7.
Kim SJ, Lee JH, Han B, Lam J, Bukowy E, Rao A, Vulcano J, Andreeva A, Bertelson H, Shin HP, Yoo JW. Effects of hospital-based physical therapy on hospital discharge outcomes among hospitalized older adults with community-acquired pneumonia and declining physical function. Aging and Disease. 2015 Jun;6(3):174.
Momosaki R, Yasunaga H, Matsui H, Horiguchi H, Fushimi K, Abo M. Effect of early rehabilitation by physical therapists on in-hospital mortality after aspiration pneumonia in the elderly. Archives of Physical Medicine and Rehabilitation. 2015 Feb 1;96(2):205-9.
Momosaki R, Yasunaga H, Matsui H, Horiguchi H, Fushimi K, Abo M. Effect of dysphagia rehabilitation on oral intake in elderly patients with aspiration pneumonia. Geriatrics & Gerontology International. 2015 Jun;15(6):694-9.