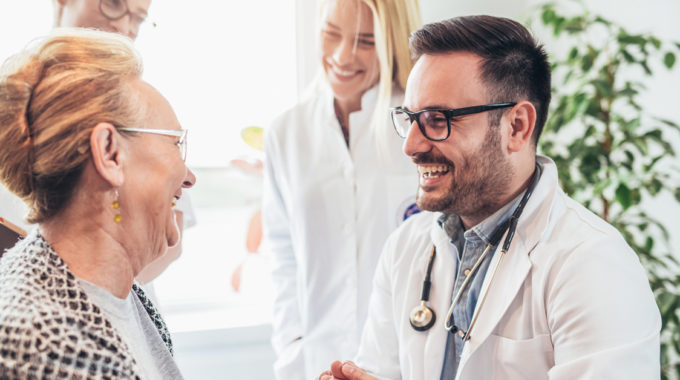 Seeing a Doctor Shortly After Hospital Discharge Can Save Your Life
People often mistakenly believe that being discharged from the hospital means they are now safe. In truth, many people going home from inpatient stays are only beginning their health care journeys. This is especially true for seniors. For nearly 20 million Americans each year, mortality rates and the risk of other negative outcomes remain higher in the weeks following a hospital or nursing home discharge.
What is Transitional Care Management?
Medicare has figured out that touching base with your doctor, and sometimes adding home nursing, after a hospital stay both lowers costs and saves lives. This service is called transitional care management (TCM).
To encourage TCM, Medicare made it a billable service in 2013. To be able to bill Medicare for TCM, doctors or their staff must contact a patient by phone within two days of discharge and see the patient within two weeks of discharge. Medicare payment for that one visit can be well over $200. There can be a lot of extra work compared to a usual office visit. The office will need to go over all your medications again, as the list may have changed. They may need to coordinate with the pharmacy, lab, medical equipment company, home health, and more.
How Important is TCM?
Last September, the Journal of the American Medical Association, published a study showing that TCM is very important. When people receive TCM, Medicare spending goes down 10% in the following month and mortality rates fall 38%. This is over and above the similar benefits caused by home health. When people returning home from the hospital get home health, we know that the home health lowers one-year spending by $15,000 per patient and one-year mortality rates by 20%. TCM from your doctor plus home health saves lives while reducing costs for both patients and Medicare.
Why Do Most Seniors Not Receive TCM?
In 2015, only 7% of eligible people with Medicare received TCM. The good news is that this is more than the two previous years: 2013 – 3.1%, 2014 – 5.5%. The bad news is that more than 90% of people with Medicare are not receiving this life-saving service when they need it. Deborah Sherl, BSN, RN, CHTS, CHPS, a healthcare billing and IT specialist, reports that hospitals often don't tell doctors when their patients are going home. This makes it difficult for doctors to contact patients within Medicare's two-day requirement.
How to Get TCM and Home Health
Considering that both TCM and home health are shown to reduce mortality rates, and that both services are not used as much as they could be, it is not an overstatement to say that getting these simple services for your loved ones could save their lives. When discharging from the hospital, nursing home, or rehab facility, think about what is left to be done at home. Is there an exercise plan, wound care, or other procedures that could go wrong? Are there medications that the patient does not fully understand? In short, is there anything a nurse or therapist could be keeping an eye on? If the answer is yes or maybe, ask your doctor and discharge planner about home health. If you are not sure about the answer you receive, get a second opinion during your TCM phone call.
Do not rely on the hospital to coordinate your TCM automatically. Request that your medical records be shared with your doctor. Then notify your doctor's staff yourself when you are going home, verify that they received your medical records, and ask for a TCM appointment.
Conclusion
One would think that people ready for discharge from an inpatient facility would be ready for self-care at home. In practice, those are two different standards. A little follow-up for patients returning home cuts overall spending and saves lives.