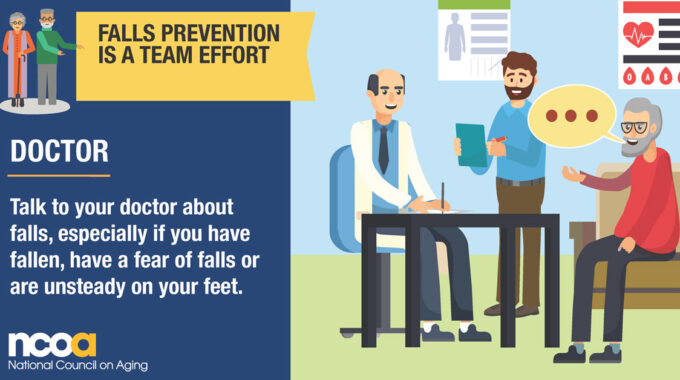 Fall Prevention Awareness Time
Each year, thousands of educators, caregivers, health and aging professionals, and older adults across the country focus their efforts on one goal: preventing falls. That's why 1800HOMECARE.com is partnering with the National Council on Aging (NCOA) and the Falls Free® Initiative to promote Fall Prevention Awareness Day (September 22) and Fall Prevention Awareness Week (September 21 – 25). In California, Fall Prevention Awareness Week is an official state campaign. Why are so many people interested in preventing falls? For retirees, accidental falls are very important.
The Problem with Falls
Fall injuries rank as a major health risk for retirees. Among people age 65+, roughly one in three people fall each year.1 These falls can lead to injury and even death, as well as a reluctance to perform self-care activities. In fact, falls rank as the number one cause of injury and injury deaths for Medicare beneficiaries. Fortunately, there are things families can do to manage this risk. The first step to preventing falls is knowing who is at risk.
"Falls prevention is a team effort that takes a balance of education, intervention, and community support," said Kathleen Cameron, Senior Director of NCOA's National Falls Prevention Resource Center. "This is an opportunity to empower and educate everyone about their roles in preventing falls."
A Way to Assess Fall Risk
Medical journals frequently publish evaluations of new ideas on how to assess fall risk. The checklist below is an example of a good one. It is a validated, fall-risk self-assessment tool developed by the Greater Los Angeles VA Geriatric Research Education Clinical Center.2 Twelve simple questions will let you know if an adult age 65+ is likely to be at risk of falling. Each "yes" answer is worth one point, except the first two questions where each "yes" scores two points.
Have you fallen in the last 6 months? (Yes = 2 points)
Do you use, or have you been advised to use, a cane or walker to get around safely? (Yes = 2 points)
Do you sometimes feel unsteady when you are walking?
Do you have to steady yourself by holding onto furniture when walking at home?
Do you worry about falling?
Do you need to push yourself up with your hands to stand up from a chair?
Do you have trouble stepping up onto a curb?
Do you often have to rush to the toilet?
Have you lost any feeling in your feet?
Do you take medication to help you sleep or improve your mood?
Do you take medication that sometimes makes you feel lightheaded or more tired than usual?
Do you often feel sad or depressed?
Do you have difficulty avoiding hazards in your path because you don't see well?
4 or more points suggest a fall risk.
What Should be Done When Retirees are at Risk of Falling?
See if an in-home rehabilitation program is available with Medicare paying 100% of the bill. Such programs tend to be comprehensive. If you are not eligible for such a program and cannot pay privately, take the lead.
Look into physical therapy gait rehabilitation.
Learn more about how what to expect with fall risk and dementia.
Learn more about how the home itself affects risk and disability.
Intensify your exercise routine. Yard work is often not enough.
Boost your diet. Learn more about nutrition (including vitamins and protein) as it relates to fall risk.
Look into a personal emergency response system.
See your doctor for a medication review with an eye toward lowering fall risk.
Assess appropriateness of shoes and other clothing. Athletic shoes with thick soles can increase fall risk for people who struggle with lifting their feet high enough while walking. Slick leather soles should be improved with non-slip adhesive products. Shoes should also be firm enough to provide support and stability.
How to Help An Elderly Person You Care For
In some cases, you may not be the person trying to manage his or her own fall risk. Perhaps you are caring for an elderly relative or friend. Trying to lower fall risk as a caregiver can add a layer of challenges to an already challenging situation. Here is an easy read with more helpful tips from the National Alliance for Caregiving: Fall Prevention Conversation Guide for Caregivers.
References
Bergen G, Stevens MR, Burns ER. Falls and Fall Injuries Among Adults Aged ≥65. MMWR Morb Mortal Wkly Rep. 2016; 65: 993–998.
Rubenstein LZ, Vivrette R, Harker JO, Stevens JA, Kramer BJ. Validating an evidence-based, self-rated fall risk questionnaire (FRQ) for older adults. Journal of Safety Research. 2011 Dec 1;42(6):493-9.