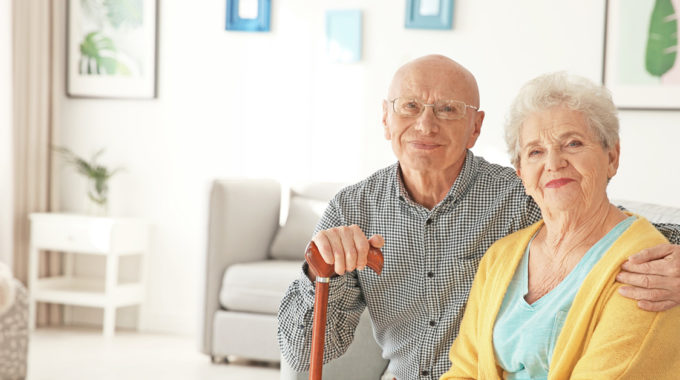 Is Your Home Disabling You?
An estimated ten million Americans live with disabilities.1 This compromises the common goal among seniors to live in their own homes, on their own terms. Age, low income, and disability each create a heightened risk for nursing home placement.2 At times, disability can lead to unmet needs for assistance with daily activities such as bathing, dressing, and running errands. Unmet needs for assistance may sound like an annoyance, but it's more than that. These unmet needs predict increased mortality.3
Fortunately, there's a lot that can be done to make seniors more independent in their own homes. There are standard approaches that we should not ignore. Here, we go beyond the standard. Let's look at some data to help illuminate the importance of home when thinking about and overcoming disability.
Standard Approaches to Reversing Disability
Healthcare has some go-to strategies for reversing disability and improving the independence of seniors.
Power training: Power matters more than strength for reversing disability. Professionally developed and guided rehab plans are more likely to achieve the needed results. A person is literally never too old to gain strength and power through exercise.4
Increased protein intake: As we age, we break down protein less efficiently.5 Fortunately, some of this setback can be overcome by increasing the percentage of our calories that come from protein. There are, however, maximum protein recommendations for older adults.
D and creatine: Vitamin D deficiencies are commonly associated with strength loss. Get the right amount of dietary vitamin D and plenty of sunlight to help metabolize vitamin D. Adding nutritional creatine can enhance the muscle-building effects of exercise.5
Physical and occupational therapy: Of course, the strategies listed above refer to the disability that develops over time from geriatric deconditioning. Many disabilities stem from neurological problems or other situations that cause a loss of bodily function that cannot be restored. For this, we have professional therapists. Physical therapists have rehab protocols that can reduce the effects of certain neurological problems. Occupational therapy, additionally, employs a deep knowledge of techniques and strategies that enable people with disabilities to do more on their own. One of the biggest shortcomings of these services is that they so often are only delivered in hospitals, rehab facilities, or outpatient clinics. These services need to also extend into the home.
The Importance of Home in Managing Disability
When considering disability, it's easy to over-focus on physical function, but there is also capability to consider. People with physical limitations can be quite capable of performing various daily tasks if they have the right strategies, tools, and environment. Most people are aware of a few home modifications that can help seniors overcome disabilities, but this usually represents only a very small percentage of the solutions out there.
The fact of the matter is, that for most seniors with mild to moderate disability, their homes are working against them. Among disabled elderly having trouble with at least one activity of daily living, researchers found obstacles or environmental hazards in most homes:6
Bathroom: 90% of homes
Kitchen: 88% of homes
Stairways: 73% of homes
Lighting: 72% of homes
Sitting: 50% of homes.
Do Home Assessments Really Help with Disability?
Being able to walk around a home and list obstacles and hazards is one thing. The real question is, "If all these home strategies are implemented, will it really make a difference in the lives of disabled seniors?" Interestingly, Dr. Sarah Szanton, of Johns Hopkins School of Medicine, and colleagues addressed this exact question. Their work was published recently in the Journal of the American Medical Association.7
They randomized 300 people with disabilities into a home assessment group and a control group. The people lived at home and had an average age of 75. The home assessment group received ten nursing and therapy visits spread over five months. They started by collaborating with each senior about independence and personal goals. They worked on pain management, medication lists, and mood, but their primary focus and intervention was related to activities planning, strategies, equipment, and home modifications. They limited themselves to a $1,300 budget for home modifications and equipment. Exercise therapy was not a main component of the program. Researchers picked eight domains of daily activities and measured difficulty from 0 to 2: 0 – no difficulty; 1 – difficulty but independent; and 2 – needs human assistance.
After five months, participants rated their disabilities again. They had improved 30% with no exercise therapy! More than 80% answered affirmatively questions regarding making life easier, improvement in taking care of self, and confidence in managing daily challenges.
How to Get a Professional Home Assessment for Managing Disability
For retirees, the home represents a significant component of disability. While the public is certainly aware of some strategies for overcoming disability at home, professionals bring a deep well of experience that can make a major difference. Any plan for improving disability should include home assessment and follow up. This is easier said than done. Such services are not always readily accessible in every community. Families can ask doctors and care planners for professional services that may help with home assessment.
One of the healthcare services that does home assessments routinely is skilled home health agencies. Home health agencies can employ nurses, physical therapists, and occupational therapists who have vast experience in managing disability at home. They can provide in-home programs like the one implemented by Dr. Szanton and colleagues. Different home health agencies may or may not do this on a private-pay basis. When certain qualifications are met, Medicare pays 100% for home assessment and disability management services.
Finally, when retirees and/or their caregivers perceive a need for more assistance with activities of daily living, despite all rehab and home assessment measures, it's time to look into non-medical home care. This service sends trained professionals to assist with activities of daily living such as bathing, dressing, cleaning, and nutrition. Timely intervention protects the wellbeing of both the senior with a disability and the family caregiver.
References:
Freedman VA, Spillman BC. Disability and care needs among older Americans. The Milbank Quarterly. 2014 Sep;92(3):509-41.
Gaugler JE, Duval S, Anderson KA, Kane RL. Predicting nursing home admission in the US: a meta-analysis. BMC Geriatrics. 2007 Dec;7(1):13.
Gaugler JE, Kane RL, Kane RA, Newcomer R. Unmet care needs and key outcomes in dementia. Journal of the American Geriatrics Society. 2005 Dec;53(12):2098-105.
Serra-Rexach J, Bustamante-Ara N, Villaran M, et al. Short-term, light-to-moderate intensity exercise training improves leg muscle strength in oldest old. J Am Geratr Soc. 2011; 59 (4): 594-602.
Morley JE, Abbatecola AM, Argiles JM, Baracos V, Bauer J, Bhasin S, Cederholm T, Coats AJ, Cummings SR, Evans WJ, Fearon K. Sarcopenia with limited mobility: an international consensus. Journal of the American Medical Directors Association. 2011 Jul 1;12(6):403-9.
Waldersen BW, Wolff JL, Roberts L, Bridges AE, Gitlin LN, Szanton SL. Functional goals and predictors of their attainment in low-income community-dwelling older adults. Archives of Physical Medicine and Rehabilitation. 2017 May 1;98(5):896-903.
Szanton SL, Xue QL, Leff B, Guralnik J, Wolff JL, Tanner EK, Boyd C, Thorpe RJ, Bishai D, Gitlin LN. Effect of a Biobehavioral Environmental Approach on Disability Among Low-Income Older Adults: A Randomized Clinical Trial. JAMA Internal Medicine. 2019 Feb 1;179(2):204-11.