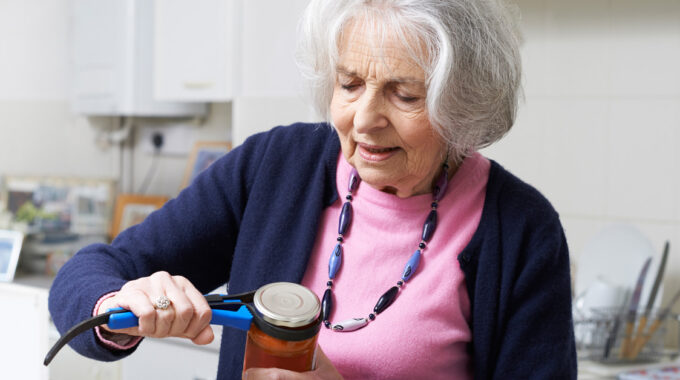 Medicare Makes Occupational Therapy More Available in Home Health, But Still Not Enough
Today, The American Occupational Therapy Association (AOTA) celebrates the passage of The Medicare Home Health Flexibility Act (H.R 3127/S. 1725). This act makes permanent the eligibility of occupational therapists (OTs) to perform the initial and comprehensive assessments required to open a home health case. Unfortunately, Medicare still does not allow the need for occupational therapy to be the reason for opening a home health case.
Improving Access to Home Health
Rep. Lloyd Doggett, Chairman of the Ways and Means Health Subcommittee helped champion the current act. Doggett states, "Seniors should not be kept from their home health providers. Unnecessary barriers to home therapy services increase costs and leave seniors at risk. Enacting this bill will help prevent delays by allowing occupational therapists to conduct the initial home health assessment and open therapy-only home health cases. We need to make care accessible for those who need it."
Until April of 2020, Medicare did not accept home health initial assessments from occupational therapists. As the pandemic strained America's healthcare resources, the Centers for Medicare and Medicaid Services (CMS) temporarily suspended the rules stopping OTs from conducting initial assessments. This temporary suspension will end when the state of emergency ends. The new Medicare Home Health Flexibility Act makes permanent OT's ability to conduct some initial assessments.
Are Occupational Therapists Qualified to Conduct Home Health Initial Assessments?
Sherry Keramisa, PhD, FASAE, CAE, Executive Director of AOTA contends that OT may be the most appropriate discipline to open a home health case. Keramisa explains, ". . . occupational therapists assess and evaluate the patient's home environment, evaluate functional status, identify possible safety issues, and identify other needs and strategies immediately, such as daily management of chronic conditions and adherence to daily medication administration routines."
Medicare Continues to Deny the Need for Occupational Therapy in Home Health Benefits
Despite this small victory, the biggest problem with home health occupational therapy continues. Medicare does not recognize the need for occupational therapy as just cause to open a home health case. Indeed, federal regulations list OT as a skilled, home health professional service, alongside nursing, physical therapy, and speech therapy.1 Nevertheless, CMS says that to qualify for home health, a patient must need either skilled nursing (for more than venipuncture), physical therapy, and/or speech therapy.1 OT doesn't count. CMS only allows home health to deliver OT as an ancillary service or a continuation service. The purpose of the home health "skilled need" requirement is to differentiate skilled home health from custodial care. Occupational therapy is certainly not custodial care.
The long-standing restriction on OT assessments and CMS's refusal to let a need for OT be the primary reason for home health has resulted in OT being widely underutilized nationwide. Occupational therapists are the healthcare discipline most trained in helping individuals overcome health challenges using environmental strategies such as equipment and changing routines. The goal is for home health patients to continue living with safety, health, and happiness in the community rather than having to be institutionalized. Of course, occupational therapy should be part of that solution. For retirees, there is no better place to deliver occupational therapy than in the home. If a patient needs greater function and independence, Medicare will pay home health if there is exercise therapy potential but not if there is occupational therapy potential. That makes no sense. Congress should focus next on making occupational therapy available where patients need it, home health.
Reference
CFR Title 42, Chapter IV, Subchapter G, §484.75. April 23, 2021.
Centers for Medicare and Medicaid Services. Home Health. Medicare Benefit Policy Manual. November 6, 2020; Chapter 7: 30.4.