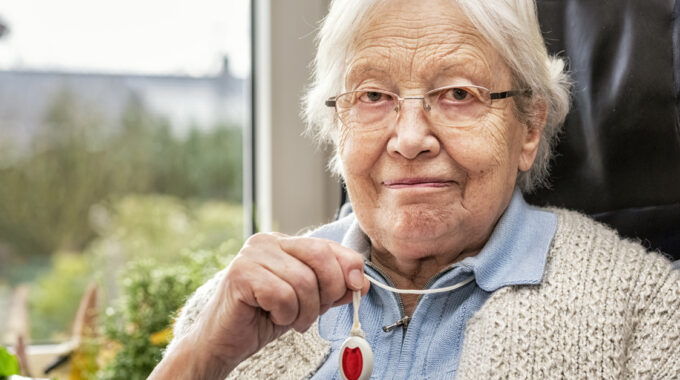 Personal Emergency Response Systems: Do They Really Help? Are They Still Relevant?
"Help! I've fallen and I can't get up!" These TV commercials from Life Alert popularized the concept of personal emergency response systems to the point of parody. However, fall risk among seniors is no laughing matter. Falls rank as the number one cause of accidental deaths among seniors,1 and the number of fall deaths each year has more than doubled since the turn of the century.2,3 Personal emergency response systems (PERS) are services that enable users to wear call devices that connect to professional monitoring centers. The question is, do they really help, and are they still relevant in the age of the mobile phone?
Personal Emergency Response Systems Reduce Hospitalization and Mortality
Older industry reports find that monitored PERS reduce hospitalization risk by 59% and reduce mortality rates by nearly 75%.4-8 This data helped launch PERS into the favor of home health providers, but it comes from a time before the widespread use of cell phones. Today, anyone can call for help using a device that is always at hand. The best current evidence we have comes from the journal of the Society for Academic Emergency Medicine.9 In 2007 – well into the age of the cell phone – that journal published a randomized controlled trial measuring outcomes related to PERS. Researchers gave PERS to half of the patients age 70+ being discharged from an emergency department after a fall injury. Compared to the patients who did not receive PERS after ED discharge, patients with PERS enjoyed a 50% lower rehospitalization rate.
Personal Emergency Response System or Mobile Phone?
PERS save lives by accelerating an appropriate response to emergency situations. For seniors in a medical emergency, PERS offer several possible advantages over mobile phones.
With one-touch calling, PERS are easier to operate than phones.
PERS are monitored 24/7. How many times have you sent your dad or mom to voicemail?
PERS work even if the wearer is unable to speak. PERS are professionally monitored and feature location identification abilities. If an operator receives a push-button call but no real interaction, a response will be launched.
The user-location features in PERS can be superior to that available during 911 calls via a mobile phone. Sometimes, 911 cannot tell where the caller is. When 911 can access the phone location data, in some cases it is only accurate within 300 meters.
Added Features in Personal Emergency Response Systems
In their early designs, PERS used household land-based phone lines to call out or other home-based equipment, and a call was only initiated by pushing a button. Today, enhanced features promise even more protection:
Go anywhere: Some PERS now work while away from the home.
Fall detection: Some PERS can detect if the user has fallen and automatically initiate a call for help.
Medical monitoring: Some systems monitor vital signs and/or provide medication reminders.
Pattern detection: Some systems learn the movement patterns of the user and send an alert if there has been a significant deviation. For instance, if a user has been in bed hours longer than usual, someone may be notified.
Location detection: Older systems know where you are because they know the customer's address and they know who is calling. Newer, mobile-capable systems add accurate GPS locators.
Daily check-in services
Related Articles:
Fall Deaths More than Double for Seniors Age 65
How to Reverse Age-Related Strength Loss
References
Bergen G, Stevens MR, Burns ER. Falls and fall injuries among adults aged≥ 65 years—United States, 2014. Morbidity and Mortality Weekly Report. 2016 Sep 23;65(37):993-8.
Hu G, Baker SP. Recent increases in fatal and non-fatal injury among people aged 65 years and over in the USA. Injury Prevention. 2010 Feb 1;16(1):26-30.
Burns E, Kakara R. Deaths from Falls Among Persons Aged ≥65 Years — United States, 2007–2016. MMWR Morb Mortal Wkly Rep; 67: 509–514.
Bernstein M. Low-tech personal emergency response systems reduce costs and improve outcomes. Manag Care Q. 2000; 8(1): 38-43.
Sherwood S. Morris J. A study of the effects of an emergency alarm and response system for the aged: a final report. Grand No. HS01788, NCHSR 1981.
Cain B. Effects of a Lifeline program on hospitalization. Long Beach California: California State Univeristy: 1987; PhD Diss.
Dibner A. Effect of personal emergency response system on hospital use. Watertown, Massachusetts: Lifeline Systems, Inc. 1985.
Koch W. Emergency response systems assist in discharge planning. Dimens Health Serv. 1984; 61:30-31.
Lee J, Jurley M, Carew D, et al. A randomized clinical trial to assess the impact on an emer-gency response system on anxiety and health care use among older emergency patients after a fall. Acad Emerg Med. 2007; (4): 301-8.