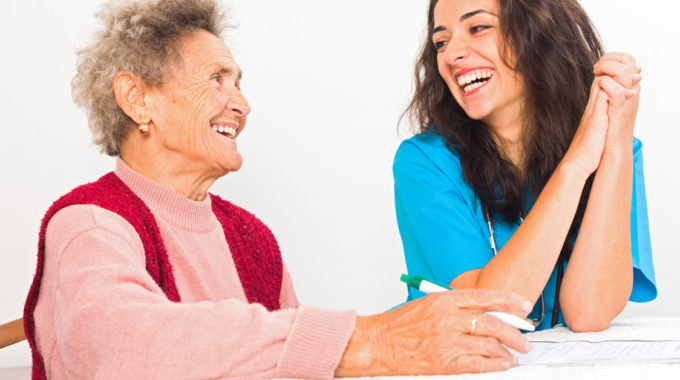 Should I Use a Home Care Agency or Hire Privately?
Home care aides serve as a great solution for retirees who need some help around the home. As we get older, activities of daily living we formerly took for granted can become harder to perform independently. This can result in risk of fall injuries, a less clean home, over-reliance on convenience foods, forgetting medications, and other problems. All of this can add up to a lower quality of life. Fortunately, a few hours per day from a well-trained, well-supervised home care aide can make all the difference in preserving a retiree's independence, comfort, and health. As America's population ages, new home care agencies open daily, but some people try to go it alone and hire an aide privately. Which is the best way to go?
Does Hiring an Aide Privately Cost Less?
At first glance, hiring an aide privately certainly appears to cost less. Across the country, the average cost of agency care was $22 in 2018.1 Compare that to the national average pay for home care aides of $13 per hour.2 If you want 20 hours per week of work, you might save $160 per week, right? The answer is "not so fast."
The Hidden Costs of Hiring an Aide Privately
Employer Taxes
As an employer of a home care aide, you are legally required to pay federal income tax withholding, state income tax withholding, Social Security, Medicare, and employer's contributions. As an employer, you are required to match the employee's contributions to Social Security and Medicare. The employer's contributions automatically add 7.65% to the cost of having an employee.
Learning and filing these taxes can be time-consuming. Even when you have the systems down pat, it may take an hour of your time per month.
You may consider paying the aide under the table, but you are unlikely to get a great employee this way. Smart employees start to figure out that under-the-table pay reduces their social security benefits later in life or during disability, negatively affects their credit record, and presents legal liability.
Paid Time Off
Will you be the type of employer who provides paid vacation? What about sick pay? What about holiday pay? If you pay an employee the usual one-week sick leave, one-week vacation leave, and the major holidays, that's an 8% increase in pay.
Replacement Care
Considering paid time off also serves as a reminder that employees take time off. Sometimes it's planned. Other times it's spur of the moment. Imagine all the times your privately hired aide is going to call in: car trouble, sick employee, sick child, vacation. Agencies provide automatic fill-in service in these instances. If you hire privately, will you have to take off work to fill in for the aide? If you lose pay, vacation, or opportunity at work for this time off, a hidden cost is there.
Supervision
Most employees working at $13 per hour need some sort of supervision. If an adult child is taking time to provide this supervision, that's another hidden time cost. With agencies, a professional, often a nurse, provides supervision. They employ several aides, so they know how much to expect and are not shy about telling aides what to do.
Hiring
Hiring takes time. Applications must be reviewed. People must be interviewed. References should be called. Agencies do all of this, plus they check certification and training credentials and run criminal background checks. Turnover in these positions can be high. Anticipate having to repeat this process every two years. This is several hours in hidden time costs.
Workers Compensation Insurance
Home care aide work is hard work, with back injuries and other injuries common. If these pains flare up in your home, while being paid by you, you may be liable for the medical bills and time off work. Companies pay for workers compensation insurance to protect against these risks. Will you take out such a policy or assume the risk? When you hire through an agency, this liability goes to the agency, not to the client.
The Home Care Agency Advantage
In addition to these advantages, agencies bring experience. They hire many aides and know what the correct credentials look like. They know how to evaluate the skills and knowledge senior care aides should have. Licensed agencies tend to provide continuing education for their aides. They also carry insurance that protects both you and the aide.
Conclusion
Qualified home care agencies charge more per hour than home care aides make. In exchange, clients receive improved reliability, lower risks, and much greater convenience and efficiency. Hiring privately may seem to cost less in the short run, but in the long run, hidden costs can add up.
References:
Genworth Cost of Care Survey 2018, conducted by CareScout®, June 2018.
Private Duty In-Home Care Salaries in the United States. Salary estimated from 1,290 employees, users, and past and present job advertisements on Indeed in the past 36 months. Last updated: August 25, 2019.