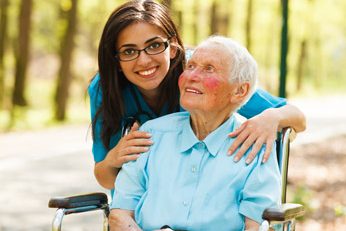 Quality Caregivers: High Demand for a Demanding Role
As anyone who has searched for home care help knows, finding the right caregiver for a family member is a big responsibility. There are many elements to consider and each situation is unique, because every senior requiring care at home is an individual.
Add to this the fact that caregivers are in high demand and it poses a dilemma for both families and care providers. They both want to find the best care available, but everyone has a budget and it only stretches so far.
Even against that challenging backdrop, care agencies are looking on the bright side. In a recent survey, more than three-quarters of those who own home care businesses said they anticipated hiring more caregivers in 2016.
The figures demonstrate the fundamental role that frontline employees serve in the care sector. Without them, there is no care. And without the quality of service that dedicated, reliable caregivers provide, there are no families willing to pay for that care.
Agencies understand this struggle, with a little over half of the survey's respondents confirming that finding the right kind of care staff is their primary issue when hiring.
Even when they have hired the right person, however, challenges remain and the focus turns to keeping them.
Caregiver retention was the second most concerning area of business for owners who participated in the CareInHomes survey. Again, a little more than half of those surveyed – 53% of them, in this case – noted staff turnover as a significant challenge. Little wonder, then, that home health aide is listed as the
Little wonder, then, that home health aide is listed as the second highest position for growth potential in the healthcare sector, with nearly 400,000 new jobs expected to be added to the sector in 2016 alone. With such substantial growth, finding the required level of quality among the quantity of new hires cannot be overlooked.
We should not forget that even with high demand for the position, the role of caregiver is not to be taken lightly.
This is a role that's in high demand because the duties are so demanding, meaning not everyone who pursues an interest in caregiving is up to the task.
Those who make it are special individuals, blessed with qualities that are often thought of as conflicting in others. Grace and grit, patience and persistence, empathy and organization; all are the traits you'll find in the best caregivers.
If you're starting your search for home health agencies today, be sure to put these qualities at the top of your list.