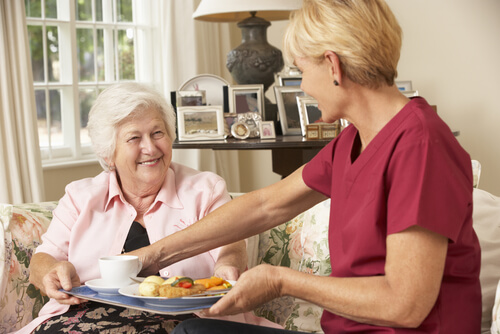 Elderly Parents Don't Want to Move. They Want to Stay at Home Instead.
The holiday season is upon us, and families everywhere are preparing their visits to their families. Visiting with your parents this season may be a good opportunity to bring up some important conversations at the dinner table. You might notice that mom needs more help to do simple tasks than last year, or dad seems to be slowing down. Having "The Talk" about moving to a senior living facility is no easy cup of tea. Elder care experts warn that such conversations are difficult and uncomfortable. While it is hard to accept change and the reality of aging, many seniors don't want to leave their homes and the lives that they have made for themselves. This only adds to the difficulty. A recent AARP survey found that nearly ninety percent of seniors prefer to stay at home instead. Thanks to one of the fastest growing industries in the country, home care, mom and dad no longer need to move after all.
Take the story of Oscar from Bend, Oregon, as an example. Oscar and his wife had lived in their home for decades, but they were getting on in years. Oscar's wife was experiencing dementia and it became increasingly difficult for him to take care of her. Oscar's adult children decided it would be best to move them both into an assisted living facility. It was a bit of a struggle, but eventually they agreed to move. After moving in, it became clear that Oscar's wife needed more specialised assisted care than him because of her dementia. They were separated and forced to live alone in a strange new place. Oscar had trouble sleeping and it didn't help that staff entered his room at night to check on him. He became so upset that one night he barricaded his door with furniture. When the staff finally made it inside, Oscar was ready, defiantly standing in his living room brandishing a kitchen knife.
It was clear that an assisted living facility was not the place for Oscar. The decision was made that he should stay at home instead. But returning to his home did not solve all of his problems. Oscar needed help. His son proposed a new idea: hire an in-home caregiver. Oscar's son was able to find someone to live in with Oscar, help keep his house clean, cook meals, and keep him company. Oscar was in his own home and saving money, too.
Assess their needs to see if they can stay at home instead
Knowing that you have options for senior care should help with the tone of your conversation with your parents about elder care. Mom and dad may be more interested in discussing elder care options if they know there is an opportunity to stay put. Needless To Say, careful consideration must take place. Is home care right for you? Only in the most extreme cases should home care be ruled out. Thanks to a growing community of support and increasing availability of home care options, the choice to stay at home instead is growing in popularity. Best of all, choosing in-home care can help seniors feel as if they had a choice in their elder care options, rather than feel forced to move away from home.
How do you know if your parents need help?
If you are visiting your parents during the holidays, you can be on the lookout for signs that they might need help at home. You don't have to snoop too much to see the telltale signs. Look for unpaid bills, abnormal clutter and disorganization. This is a good opportunity to look for signs of elder fraud in the form of "reward" mailers as well. Ask yourself the questions: Does the house seem dirtier than usual? Is there home maintenance or yard work that desperately needs attention? Does mom or dad's hygiene seem to be suffering? These could be signs that they may be in need of elder care assistance.
You don't necessarily have to visit to pick up on signs that mom or dad need assistance, either. If they seem to be missing important appointments or have trouble returning calls, it may be time to seek out help. Don't be afraid to ask your parents how they really are. Be frank. It is important to assess whether or not elderly parents truly need help before initiating a dialogue with them. Premature discussions are generally unproductive.
Finding a Caregiver
Depending on where you live, and the needs of your parents, choosing the right kind of caregiver is necessary to stay at home instead. Distinguishing between a CNA and an HHA is important in this case. A CNA is a Certified Nurse's Aide. They come to a patient's home and assist with mostly non-medical tasks. This can be serving meals, light cleaning, and assisting with daily hygiene. CNA's can also serve as a administrative assistant and chauffeur. CNA's will work under the supervision of a geriatric doctor or nurse and can perform simple medical services such as taking vitals, administering medication, and acting as a liaison with the patient's doctor.
An HHA is an Home Health Aide. Home Health Aides are very similar to CNA's. Typically, a CNA is more qualified for medical care than an HHA. Titles like CNA, HHA, personal aide, and others, are used differently by state. It is a good idea to ask your local home care provider what services they offer before making your decision.
At 1-800-HOMECARE, our goal is to help patients find providers. Facing the reality of aging is not easy, but it also does not need to be overly difficult. Begin your search for a home care provider near you sooner rather than later, and call us at 1-800-466-3227 to speak to someone in your area.