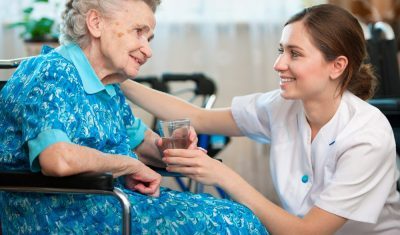 In Home Care to Attract Investors as Industry Grows
Would you be surprised if you were told that in home care is the next big thing in investing? Not only are in home care businesses popping up all over the map, big investment firms are getting in on this exploding industry. Even Silicon Valley is throwing its chips in.
Low Startup Cost
The cost of starting your own in home care business is relatively low. Most fast-food restaurants cost upwards of $500,000 to start, while most home care franchises cost much less; as low as $30,000 in some cases. Overhead costs are primarily derived from leasing an office space, recruiting and training staff, and home care marketing. Home care businesses are a pretty straightforward deal. Once you begin sending out your caregivers to clients, it pretty much pays for itself. Forbes named several home care franchises best franchise to start under $150,000 in 2014.
Growing Customer Base
As America's population continues to age and grow, demand for home care will only increase. We can expect America's elderly population to expand by about 80% in the next 25 years. That means there will be over 80 million seniors in the United States by the year 2042. With such a staggering nationwide client base, starting a home care business would be a worthy investment. Better yet, according to a study conducted by AARP, 90% of seniors wish to stay at home. This would mean that about 72 million of those seniors would be potential home care clients, nationwide. The numbers suggest that the home care industry is not a saturated market by any means, nor is it likely to become so any time soon.   
High Returns
For such a low investment cost, in home care businesses typically see big returns. One report mentioned that the median home care business makes $2 million per year. The Designated Market Area (DMA) that home care businesses are present in can be huge. For example, locations like Florida or southern California offer a lucrative client base across a large geographic region.
Thanks to America's rapidly aging population, there is plenty of business to be had no matter where you are located. The most important keys in earning new clients is marketing and branding. If you offer the best care or have the best trained staff, how will potential customers know? Having a well-designed website, internet presence, and using effective marketing tools, such as a personal toll-free phone number are necessary to stand out from the pack.
Sentimental Rewards
Unlike serving fried food out a window, running an in home care business has great sentimental value. It is doing a service to your community. Thousands of seniors in your area depend on you to provide them the daily care they need. As a business owner, you aren't just providing a service, you are improving their quality of life. For the elderly who have difficulty with mobility, an in home care provider makes life not only enjoyable, but livable. For families who are not able to care for their parents because they are parents themselves, in home care agencies are a godsend.
Big Investments in Tech
While the notion of Silicon Valley investing in home care seems counterintuitive, there are several aspects of the industry that are attractive to tech engineers. After all, tech companies like Apple and Samsung typically target younger demographics, which are those who use gadgets like smartphones in almost every aspect of their lives. There are a growing number of products and apps designed to make giving and receiving care a snap. Platforms for communication like Independa could be the future of in home care. It is undeniable that in home care is a major growth market that isn't going away anytime soon. Software companies who offer valuable services to home care businesses are growing in number. Companies such as Ankota and HomeTrak provide helpful tools for managing in home care services. Websites like AgingCare.com offer resources to those looking for in home care and make finding a care provider easy.
In Home Care, the Next Big Thing
With a small startup cost, big expected returns, a booming client base, and plenty of tech support, starting a home care business sounds like an investor's dream. While elder care will continue to be a lucrative market, forecasts predict that in home care will become high in demand as more Americans age and want to stay at home. As home care grows, so will the hospice industry, which is also expected to attract new investors as Baby Boomers age.