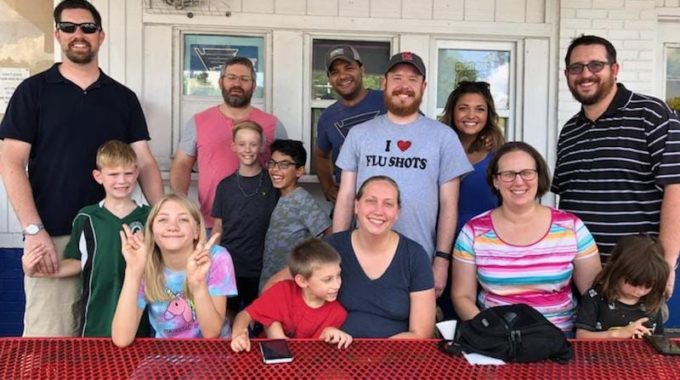 38-Year-Old Man Nearly Dies of the Flu
After multi-organ failure and a medically induced coma from the flu, Charlie Hinderliter is letting the world know he recommends getting a flu shot.
Pictured above: Photo from Charlie Hinderliter. Charlie celebrates with friends at Mr Wizard's Frozen Custard after getting his first flu shot last month.
It all started last January. At age 38, Charlie got the flu, saw his doctor, and thought it was no big deal. It was too late for Charlie to get a flu shot at that point. He was already infected. A week later, he returned to the doctor and was admitted to Mercy Hospital St. Louis.
Charlie developed pneumonia, septic shock, and multi-organ failure. He spent 79 days in the hospital and nursing home. Doctors put him in a medically induced coma. He needed multiple blood transfusions. He was on dialysis, a ventilator, and a feeding tube. Doctors were not sure if he would survive. By the time he left the hospital, Charlie was too weak to walk. He transferred to a nursing home for rehabilitation. It was the same nursing home where his grandmother lived.
After having been admitted to Mercy Hospital on January 27, Charlie finally returned home on April 16. He now has permanent hearing loss in one ear, scars from the surgeries to place tubes, and emotional repercussions from the time he was not able to breathe. He lost 40 pounds, much of which was muscle mass. He returned to part-time work at his office job in June and full-time work in August.
The CDC reports that in the same flu season, a flu shot reduced the chance of getting the flu by 40%. Charlie's doctor has stated if Charlie had a flu vaccination, even if he still caught the flu, it could have reduced his symptoms and complications. Charlie's experience with the flu is more common among people age 65+ and children younger than 5, but serious complications can strike anyone. Most people don't die or get severely ill from the flu virus itself. The complications and flu-related illnesses, especially bacterial lung infections, cause the more serious problems.
The CDC recommends everyone get a flu shot every year. Flu shots both prevent the flu and reduce the severity of illnesses that do occur. Getting a flu shot is also a civic responsibility. People who are not in the at-risk age ranges can still carry the flu through their communities. In addition to being able to get a flu shot from a clinic, flu shots are now widely available at local pharmacies such as CVS, Walgreen's, and Publix. When patients are homebound and on home health, nurses can deliver the flu shot under orders from the doctor.