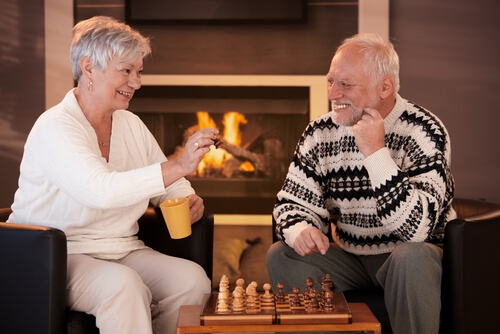 4 Tips on How to Stay Healthy in Winter
The colder winter months can be challenging for seniors. Darker nights, a chill in the air, and wet weather mean an increase risk of flu, colds, and other health problems. There are practical ways to stay healthy during the winter months by taking a few steps to prepare well. The following are some simple ideas to stay healthy and independent during winter.
Stay Warm
When the outside temperature drops below 50 degrees Fahrenheit, it can aggravate a number of chronic conditions, including asthma, heart disease, depression, among others. Getting the home's heating system serviced and checked out before the cold weather starts is vital to avoid problems during the winter months. It is important to ensure the house is heated, especially if someone in the home is elderly or has a long-term illness. Check whether you are eligible for financial support with heating in the winter, and claim it if possible. Try to keep the house at a minimum of 65 degrees Fahrenheit if possible, including at night. Closing the curtains at dusk and keeping doors closed helps retain heat. Wearing an extra layer of clothing also helps with staying warm in colder weather without increasing the heating in the house. If you have steps outside your home that may get icy, have a handrail fitted. Don't forget to have a fully charged flashlight on hand in case there is a power cut.
Get a Health Check
With wintry weather on the way, it is good preparation to get a health check with your family doctor. In particular, getting a Flu Shot is a priority if you have other medical conditions. If you take any medications, ensure you have ample supplies in your home so that if it snows or the pharmacy is closed on a holiday, you do not run out of prescription drugs. Some pharmacies do home deliveries, which will avoid you going out in poor weather conditions.
Eat Nutritious Food
Vitamins and minerals in a balanced diet are effective at keeping people healthy in colder weather. Ensure you eat lots of fresh vegetables and fruit to boost your immune system. Don't forget to have a store of canned and frozen meals at home so if the weather is bad you don't need to risk your safety to go shopping. When cooking a meal, make double portions and freeze some for another day. This not only saves on fuel bills but also provides you with an easy meal to pop in the microwave. Don't forget to check out online food deliveries to your home to save you a journey in the cold.
Build Your Networks
Getting to know your neighbors is a good way to prepare for winter. If you are all elderly, you can look out for each other. You might also have younger neighbors who are willing to collect something from the store for you or help with a small task in cold weather. Ask friends and family to drop by and see you during the winter months, as they can check if you are alright, but may also be able to support you with jobs around the home or shopping trips. Some towns have activities for seniors, such as lunch clubs and visits to places of interest. This is a good way to get to know others and avoid long days in solitude. Most importantly, if none of these options are available, or you need extra help around the house, consider home care services, who provide all the help you might need during winter.
Winter can be a challenge for seniors, but by doing some preparation, you can stay healthy and warm.