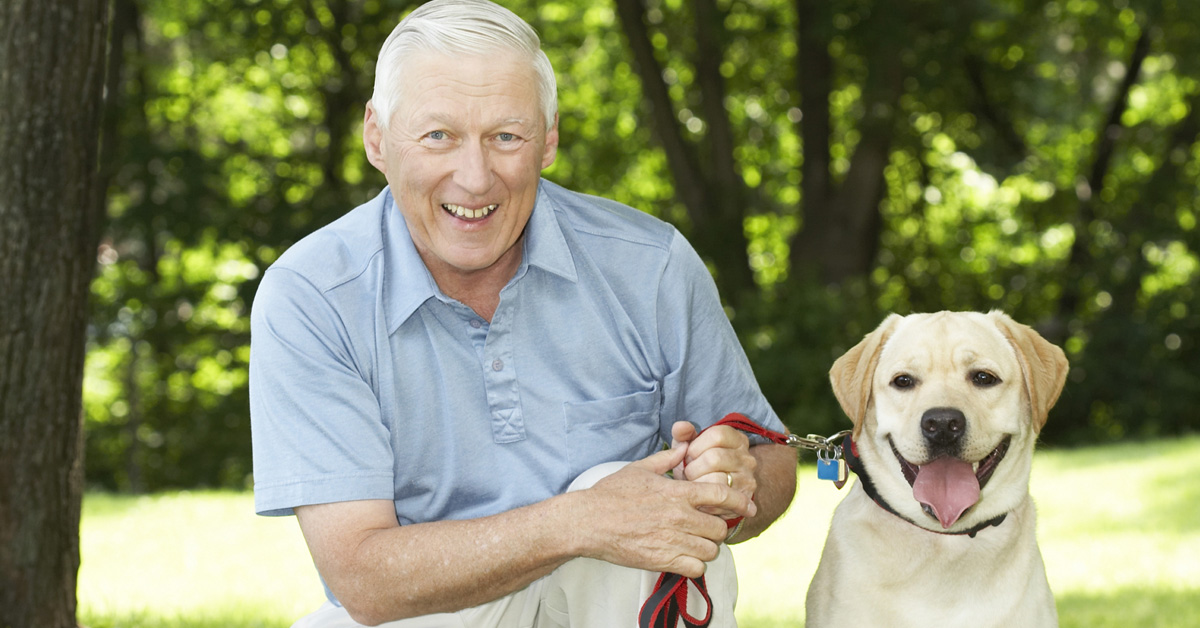 Do Pets Increase Fall Risk for the Elderly?
Pets offer unconditional love. Consequentially, they are associated with a number of health benefits, especially among seniors. But moreover, who can resist those eyes? On the other hand, are there risks inherent with pet ownership that people are overlooking? Some studies have associated pet ownership with tripping hazards and musculoskeletal injuries. Can those risks be managed? Do the benefits outweigh the hazard?
Health Benefits of Pet Ownership
First, let us recognize the myriad of benefits associated with pet ownership. Pets provide socialization and encourage exercise. Those influences can go a long way. Various health outcomes have been studied. While some of the research is not scientifically conclusive, many point to encouraging benefits from pet ownership. Health benefits of pet ownership include:
Association with reduced blood pressure – reducing hypertension.1-6
Improvement in blood lipid levels.3
Improved physical response to stress.7-15
Improved survival among people with cardiovascular disease (dogs only).16
Among seniors, reduced sense of loneliness, increased socialization, improved mental health resilience.
Fall Risk Among Seniors
On the other hand, pets pose a theoretical tripping hazard. Fall injuries rank as a major health risk as we grow older. Every second of every day, an American age 65+ falls. Every 20 minutes, an older American dies from a fall. Surveys show that 28.7% of Americans age 65+ fall each year, and the prevalence continues to rise with age.18 In addition to the injuries and deaths that occur from accidental falls, it's common for seniors to lose confidence. They quietly begin to restrict their own activities, which can lead to lower quality of life and a self-reinforcing circle of deconditioning.
Do Pets Increase Fall Risk for the Elderly?
While we can say that pets are implicated in falls and injuries among the elderly, there has been no study specifically demonstrating that the risk is greater while there is a pet in the house. The largest study of this issue comes to us from the Division of Unintentional Injury Prevention, National Center for Injury Prevention and Control.19 Each year, pets are involved in 90,000 injuries. While pet-related injuries occur at all ages, the risk is greatest among people age 75+. Some injuries occur when seniors chase their pets or when dogs pull on leashes. Tripping is also common. However, the fall injuries involving pets make up only 1% of overall fall injuries.
How Seniors Can Reduce the Risk of Pet-associated Injuries
These risks can be mitigated. Recommended strategies for elderly include:
Recognize the general risks of fall injury (such as low foot clearance and altered gait). Participate in rehab to reduce the risks. When seniors are homebound, home health can provide fall-prevention rehab at home, with Medicare paying 100%.
Adopt smaller dogs that will be less likely to pull seniors over and that don't have the power to cause shoulder injuries from pulling the leash.
Participate in obedience training.
Don't chase your pet. It can outrun you. Outsmart it into coming to you.
Don't step over pets. They may jump up and cause a fall. Walk around them or ask them to move, and show them love for being helpful.
Keep the floors well lighted, especially at night. This reduces tripping hazards in general, including tripping over the pet.
Wear shoes with high traction soles that are not too thick, even at home. Overly thick soles are thought to contribute to fall risk for people with low foot clearance during gait.
References
Anderson WP, Reid CM, Jennings GL. Pet ownership and risk factors for cardiovascular disease. Med J Aust. 1992; 157:298–301.
Allen K, Blascovich J, Mendes WB. Cardiovascular reactivity and the presence of pets, friends, and spouses: the truth about cats and dogs. Psychosom Med. 2002; 64:727–739.
Lentino C, Visek AJ, McDonnell K, DiPietro L. Dog walking is associated with a favorable risk profile independent of moderate to high volume of physical activity. J Phys Act Health. 2012; 9:414–420.
Wright JD, Kritz-Silverstein D, Morton DJ, Wingard DL, Barrett-Connor E. Pet ownership and blood pressure in old age. Epidemiology. 2007; 18:613–618.
Parslow RA, Jorm AF. Pet ownership and risk factors for cardiovascular disease: another look. Med J Aust. 2003; 179:466–468.
Allen K. Dog ownership and control of borderline hypertension: a controlled randomized trial. Presented at: 22nd Annual Scientific Sessions of the Society of Behavioral Medicine; March 24, 2001; Seattle, WA.
Aiba N, Hotta K, Yokoyama M, Wang G, Tabata M, Kamiya K, Shimizu R, Kamekawa D, Hoshi K, Yamaoka-Tojo M, Masuda T. Usefulness of pet ownership as a modulator of cardiac autonomic imbalance in patients with diabetes mellitus, hypertension, and/or hyperlipidemia. Am J Cardiol. 2012; 109:1164–1170.
58.Friedmann E, Thomas SA, Stein PK, Kleiger RE. Relation between pet ownership and heart rate variability in patients with healed myocardial infarcts. Am J Cardiol. 2003; 91:718–721.
59.Allen K, Shykoff BE, Izzo JL. Pet ownership, but not ACE inhibitor therapy, blunts home blood pressure responses to mental stress. Hypertension. 2001; 38:815–820.
60.DeMello LR. The effect of the presence of a companion-animal on physiological changes following the termination of cognitive stressors. Psychol Health 1999; 14:859–868.CrossrefGoogle Scholar
61.Eddy TJ. Human cardiac responses to familiar young chimpanzees. Anthrozoos. 1995; 9:235–243.CrossrefGoogle Scholar
62.Cole KM, Gawlinski A, Steers N, Kotlerman J. Animal-assisted therapy in patients hospitalized with heart failure.Am J Crit Care. 2007; 16:575–585.MedlineGoogle Scholar
63.Baun MM, Bergstrom N, Langston NF, Thoma L. Physiological effects of human/companion animal bonding. Nurs Res. 1984; 33:126–129.CrossrefMedlineGoogle Scholar
64.Friedmann E, Katcher AH, Thomas SA, Lynch JJ, Messent PR. Social interaction and blood pressure: influence of animal companions. J Nerv Ment Dis. 1983; 171:461–465.
65.Motooka M, Koike H, Yokoyama T, Kennedy NL. Effect of dog-walking on autonomic nervous activity in senior citizens. Med J Aust. 2006; 184:60–63.
Friedmann E, Thomas SA, Son H. Pets, depression and long term survival in community living patients following myocardial infarction. Anthrozoos. 2011; 24:273–285.
Hui Gan GZ, Hill AM, Yeung P, Keesing S, Netto JA. Pet ownership and its influence on mental health in older adults. Aging & Mental Health. 2020 Oct 2; 24(10):1605-12.
Bergen G, Stevens MR, Burns ER. Falls and Fall Injuries Among Adults Aged ≥65. MMWR Morb Mortal Wkly Rep. 2016; 65: 993–998.
Stevens JA, Teh SL, Haileyesus T. Dogs and cats as environmental fall hazards. Journal of Safety Research. 2010 Feb 1;41(1):69-73.