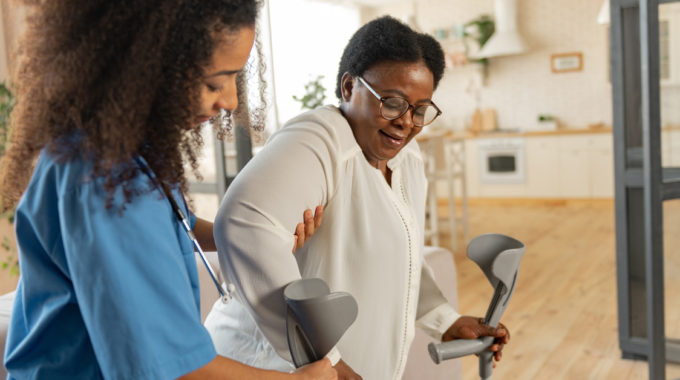 Duties of a Home Care Aide
The duties of a home care aide are to provide non-medical support with activities of daily living. This support may be hands-on or hands-off depending on state regulations and licensure status. Let's explore.
The CDC reports there are 12,000 home health agencies nationwide, each seeing hundreds of patients per year. That, however, only counts Medicare-certified home health agencies. There are likely an equal or greater number of non-medical home care agencies. These medical and non-medical agencies provide home care aide services, among other services, to an estimated five to six million people per year. Most non-medical home care agencies provide aide services almost exclusively, while Medicare-certified home health agencies tend to provide aide services as supplemental care to the services of nurses and therapists. So what are the duties of home care aides? Well, as with most things in home care, it depends. Fortunately, we have the information you need about the duties of a home care aide.
What is a Home Care Aide?
Here we are using the term "home care aide" as a catch-all for the professionals who provide non-medical assistance with activities of daily living at the homes of clients. They go by many official descriptions:
Personal care aide
Companion
Direct care worker
Etc.
State laws, federal laws, and/or Medicare/Medicaid payment guidelines define these specific terms. They are differentiated by education, training, and state registration requirements. What they all have in common is that these workers go to the homes of clients and help with activities of daily living.
What are Activities of Daily Living?
First coined by Sidney Katz in 1950, the healthcare industry commonly uses the term "activities of daily living" collectively to describe those tasks that are fundamental for self-care. These include:
Cooking
Cleaning
Laundry
Bathing, dressing, and grooming
Basic home maintenance such as taking out the trash, paying bills, bringing in the mail, changing light bulbs, etc.
Toileting
Eating
Taking prescribed medications and adhering to medical plans
Mobility such as walking or getting around in a wheelchair
Transfers such as rising from bed or rising from a seated position
Most adults do these things almost effortlessly, so it is easy to take them for granted. Think of all the tasks you do at home that would prove very problematic if they were not done effectively. When age or disability makes these tasks burdensome or nearly impossible, quality of life, health, and safety become compromised more than most people realize.
Is There a Difference Between Companion Care and Personal Care?
When discussing the duties of a home care aide, one should take note of the important difference between companion care and other types of home care aides. Companion care generally refers to hands-off home care. Companions will assist with many of the same tasks, but in limited ways.
Where a personal care aide may assist with getting out of a seat by offering an arm to hold onto, a companion would place a walker in a useful position.
Personal care aides may offer an arm for stability when a client enters and leaves the bathtub, and he or she may wash hard to reach places such as the feet. Afterward, a personal care aide may apply lotion to the feet and back. A companion, on the other hand, would be able to make sure the non-slip rug is in place, hand the client a towel and other bathing items, and make sure the floor is dry enough for walking.
This varies widely from state to state. Some states do not license non-medical home care at all, so all home care agencies provide hands-on care as they see fit. Some states require all home care agencies to be licensed for hands-on home care, so companion care does not exist as a hands-off category of home care. Still more states differentiate between companion care and hands-on personal care, so those states have these differences. Because the state laws vary so widely, non-medical home care agencies also do not use the term companion care in a uniform way across the country. If you see an agency using the term companion care, it's worthwhile to (1) find out if the home care aide's duties can include tasks that involve touching the client and (2) consider if the client actually needs service that would require hands-on contact from the home-care aide.