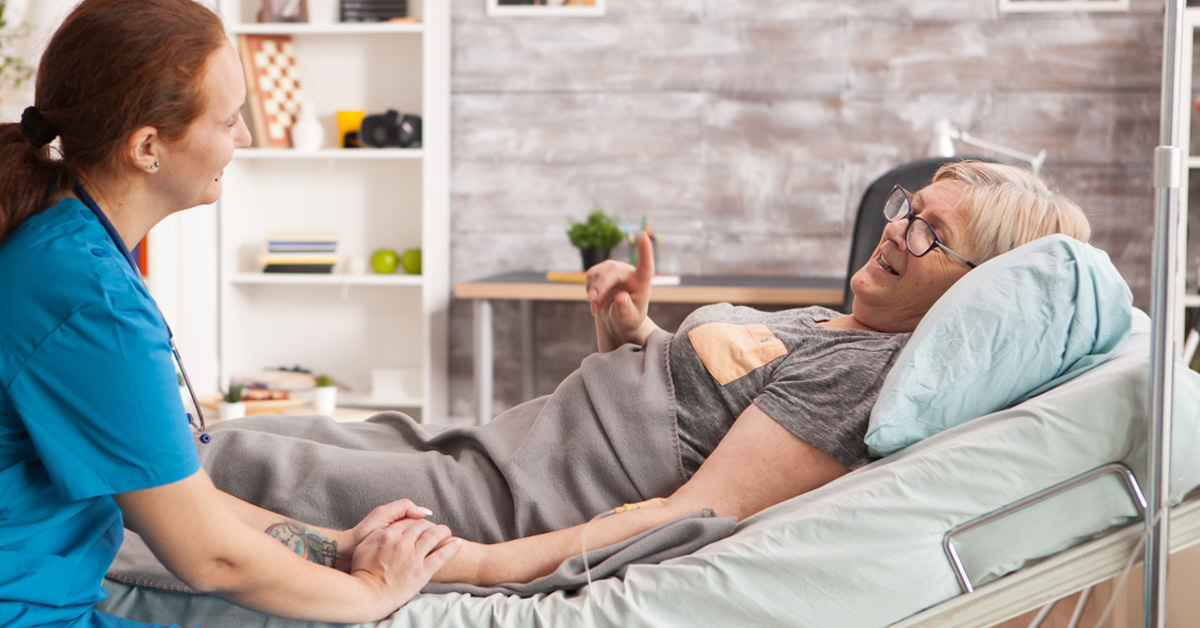 Can Home Health Handle the Shift Away from Nursing Homes and Toward Home Health?
In April 2022, CarePort released a report showing that care after hospitalization is shifting away from nursing homes and toward home health. The same report shows that home health agencies are turning down those referrals more often.
What is Post-acute Care?
Post-acute care refers to the medical care people need after the initial, high-intensity health situation has been handled. Hospitals handle the high-intensity situations, but as the situations stabilize, the greater attention afforded by the hospital setting is not entirely needed. Patients then move to post-acute care. This may involve rehabilitation, patient/family education, patient monitoring, and other services that ensure recovery goes according to plan.
Post-acute Care Shifts Away from Skilled Nursing Facilities and Toward Home Health
Traditionally, roughly half of patients discharged from hospitals to post-acute care went to home health, and the other half went to facility-based care such as skilled nursing facilities (SNFs). CarePort's April report, "The Evolution of Care: A Care Delivery Report," finds that while referrals to SNFs have declined 18% since 2019, referrals to skilled home health have increase 10%. By March of 2021, hospitals were sending 60% of their post-acute care referrals to home health agencies and 40% to SNFs.
Patients in Post-Acute Care are Sicker than Before
Simultaneously, the patients leaving the hospitals are sicker than before. Patients discharged to post-acute care are scoring 13% higher on the Elixhauser Comorbidity Index (comparing 2019 to 2021). In general, this means that in addition to the primary reason that people were in the hospital, they are more likely to have other major illnesses that could make care more challenging. For instance, patients in post-acute care are now more likely to have congestive heart failure, COPD, hypertension, neurologic disorders, diabetes, obesity, etc – in addition to the reason they were hospitalized.
Patients in the Hospitals are Sicker than They Were Pre-2019
The higher acuity patients in post-acute care is a product of sicker patients in hospitals. Comparing 2021 to 2019, patients in the hospital had an 11% higher comorbidity score and a 10% higher mortality rate. With limited room for patients who are less sick, hospitals saw a 25% decrease in elective surgeries.
As further evidence, patients are staying in the hospital 8% longer. That longer length of stay may be a product of both sicker patients and post-acute care providers turning down their referrals.
Home Health and Skilled Nursing Facilities are Turning Away More Patients
Hospital discharge planners work to match patients with the right home health agencies or SNFs. This means the agency or facility can provide type of care needed, take the patient's insurance, and treat the patient promptly. Sometimes, this means offering a referral to more than one post-acute care provider. Compared to 2019, post-acute care providers are turning down more and more patients. Hospitals are having to offer the referral to different SNFs 32% more to place the patient. The challenge is even greater in home health, where hospitals are offering the referral 42% more to find the right home health agency that can take the case.
Why is Home Health Turning Away Patients?
The home health industry may not have the elasticity to seamlessly meet an increase in demand. Of course, across all provider types, the nationwide nursing shortage limits the availability or quality of care. What's more, the home health industry has been particularly embattled. State and federal governments have used harsh measures to limit the growth of home health. It was only recently that Medicare lifted a moratorium on new home health agencies in the most senior-dense parts of the country. Oversight has been, at times, aggressive. Medicare is spending far less per patient than they did at the turn of the century. Compared to their counterparts in outpatient care centers, registered nurses at home health agencies make 19% less.
Despite these challenges, home health nurses carry on. Discharge planners may need to work harder to place home health referrals. Home health agencies are working much harder to staff their teams. Reports of large numbers of patients being unable to access home health have yet to surface.
About CarePort
CarePort is a care coordination network with thousands of providers connected across the U.S. Their end-to-end platform bridges acute and post-acute EHR data, providing visibility into the entire patient journey for providers, physicians, payers, and ACOs. With CarePort, healthcare professionals can coordinate patient care to track and manage patients as they move through the continuum.