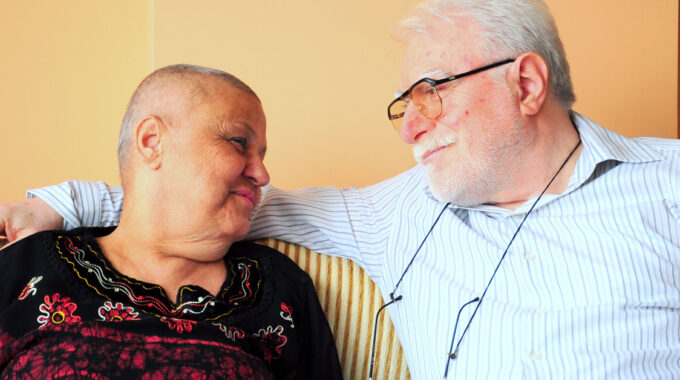 Cancer Patients with Medicare Advantage Are Far Less Likely to Receive Home Health
Roughly one in three patients with a cancer diagnosis receives Medicare-certified home health care.1 This is not surprising considering the high-level of personal care need among this patient group. Within three months of a cancer diagnosis, more than 80% of patients require assistance with bathing, ambulation/locomotion, dressing, or meal preparation. Constant pain is also a pervasive symptom.2 Family caregivers commonly feel unprepared and overwhelmed, leading to heightened risk for depression, anxiety, and psychosocial distress.3 These conditions often outlive the caregiving role. Home health nurses and therapists can train family caregivers while also providing skilled assessments and direct care. Non-medical home care agencies can provide even more support with personal care and homemaking tasks.
Despite the clear need for at-home support, research published in May shows the type of insurance you have strongly influences whether you will receive home health.1 Families with traditional Medicare prove 60% more likely to receive home health after a cancer diagnosis, compared to families with Medicare Advantage plans. Earlier studies have shown that patients with Medicare Advantage receive less home health, but Dr. Kali Thomas's work published in May is the first to focus specifically on cancer care.
What's the Difference between Traditional Medicare and Medicare Advantage?
Medicare Advantage plans are health insurance plans from private insurance companies, but that use and replace a senior's Medicare benefits. Seniors have choice in how their Medicare benefits are received. This is sometimes referred to as Medicare Part C, because that is the section of Medicare regulation that created the opportunity for private insurance companies to administrate Medicare benefits. The companies providing the most Medicare Advantage policies include: UnitedHealthcare, Humana, Blue Cross / Blue Shield, CVS, and Kaiser Permanente. Enrollment in Medicare Advantage plans has grown from 18% of Medicare beneficiaries in 1999 to 34% in 2019.
People who opt for Medicare Advantage plans often appreciate how the rearranged benefits reduce their usual and expected healthcare expenses. On the other hand, people with Medicare Advantage plans receive less care when they are at their sickest. People who have Medicare Advantage plans are less likely to receive skilled nursing facility care or inpatient rehab center care after a hospitalization. Patients with Medicare Advantage plans are less likely to receive care from specialists.4 When patients are homebound and have a need for repeated skilled nursing or therapy, families with traditional Medicare prove 80% more likely to receive home health than families with Medicare Advantage plans.5
Additionally, Medicare Advantage plans give patients fewer choices in healthcare providers. This may be a large part of the reason that families with Medicare Advantage plans are more likely to use home health agencies with lower quality ratings.
How Do Medicare Advantage Plans Reduce Home Health Use?
In theory, doctors prescribe what patients need, so the system should provide the same care regardless of the insurance company. However, in practice, there are important differences between Medicare Advantage procedures and traditional Medicare. Dr. Thomas theorizes that some of the following differences may reduce home health use in Medicare Advantage plans:
Higher cost sharing: Traditional Medicare pays 100% for home health with no deductible or copay. Medicare allows Advantage plans to apply cost sharing.
Visit caps: Traditional Medicare does not limit how many home health visits a patient may receive per year. This is only determined by patient need. Medicare allows Advantage plans to cap the number of home nursing visits per year, but individual plans may or may not do this.
Pre-authorization: There have been plans to change this, but traditional Medicare does not require pre-authorization of home health episodes. If the doctor prescribes home health and the home health agency agrees that the patient meets Medicare criteria, home health is allowed to start care right away. Medicare Advantage plans often require a third party at the insurance company to approve the doctor's decision-making before allowing home health care to begin.
Approved provider lists: In large cities, patients can choose from hundreds of Medicare-certified providers. Medicare Advantage plans tend to narrow those lists down dramatically, perhaps to the extent of limiting access to home health.
Is Less Home Health Really a Bad Thing?
To play the devil's advocate, we should point out that Medicare Advantage plans should work to reduce unnecessary care and expenditures. Does denying home health to patients reduce unnecessary expenses without harming the patient? Dr. Thomas and colleagues did not analyze that question in the current study. At this point, we can only guess about whether limited access to home health harms patients. Here's what we do know. Following a skilled nursing facility discharge for heart failure, patients without home health have a 32% higher mortality rate. Across all diagnoses, home health following a skilled nursing facility discharge reduces 30-day rehospitalization by 39%.7 We also know that patients who refuse a home health referral at hospital discharge experience 25% higher mortality rates, have twice as many 30-day readmissions, and cost $15,233 more over the next year. These studies suggest strongly that when doctors or discharge planners recognize a need for skilled nursing or therapy for a homebound patient, skipping home health is likely bad for the patient.
References
Locher JL, Kilgore ML, Morrisey MA, Ritchie CS. Patterns and predictors of home health and hospice use by older adults with cancer. Journal of the American Geriatrics Society. 2006 Aug;54(8):1206-11.
Thomas KS, Schwartz ML, Boyd E, White DP, Mariotto AB, Barrett MJ, Warren JL. Home Health Use Following a Cancer Diagnosis Among Patients Enrolled in Medicare Advantage and Traditional Medicare: Findings From the Newly Linked SEER-Medicare and Home Health OASIS Data. JNCI Monographs. 2020 May 1;2020(55):53-9.
Grant M, Sun V, Fujinami R, et al. Family caregiver burden, skills preparedness, and quality of life in non-small-cell lung cancer. Oncol Nurs Forum. 2013; 40(4):337-346.
Curto V, Einav L, Finkelstein A, Levin J, Bhattacharya J. Health Care Spending and Utilization in Public and Private Medicare. American Economic Journal: Applied Economics. 2019 Apr;11(2):302-2.
Waxman DA, Min L, Setodji CM, Hanson M, Wenger NS, Ganz DA. Does Medicare Advantage enrollment affect home healthcare use. Am J Manag Care. 2016 Nov 1;22(11):714-20.
Carnahan JL, Slaven JE, Callahan CM, Tu W, Torke AM. Transitions from skilled nursing facility to home: The relationship of early outpatient care to hospital readmission. Journal of the American Medical Directors Association. 2017 Oct 1;18 (10): 853-9.