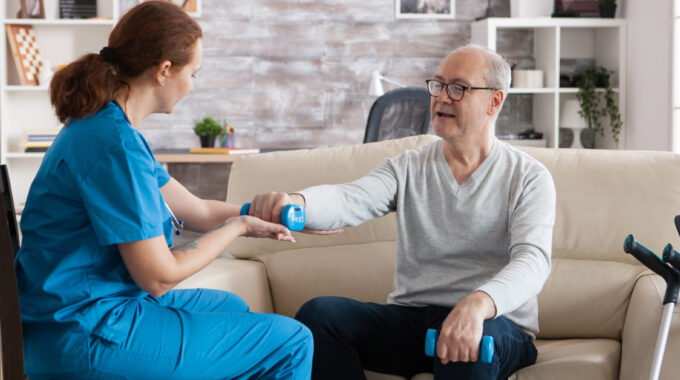 Research Shows Adding Home Health after Inpatient Rehab Improves Outcomes
When people are recovering from brain injuries such as stroke, cardiac events, orthopedic surgeries, etc. rehabilitation is a must. Physical therapists, occupational therapists, and other professionals guide people in exercise therapy and other treatments that restore as much ability and independence as possible. What's more, patients have a choice in where and how therapists provide rehab. Broadly speaking, therapists offer rehab as inpatient, home health (or community-based), and outpatient. It's possible that most patients and doctors think of these options as either/or. That is to say, "Either you receive inpatient rehab or home health rehab." However, research is starting to show that we may do better thinking of these rehab options as a continuum. In other words, patients may achieve better outcomes at lower costs if they receive rehab at the hospital, then at the rehab facility or other extended-stay inpatient setting, and then at home as well.
In September, The American Journal of Physical Medicine & Rehabilitation published the latest entry into the body of research showing certain patients need rehab at more than one setting.1 Dr. Hong and colleagues analyzed the health records of patients recovering from a stroke at an inpatient rehab facility. They found that patients discharged to home without home health proved three times more likely to experience rehospitalization.
What is the Difference Between Inpatient, Outpatient, and Community-Based Rehab?
These terms only refer to the setting in which patients receive rehab. With inpatient rehab, patients sleep at a facility and receive rehab during the day. The facility may be a rehab center, nursing home, skilled nursing facility, etc. Outpatient rehab means the patient travels to and from the rehab center. The rehab provider may be the same facility, or it may be a therapy practice that only sees outpatients. Finally, community-based rehab means the therapists travel to the patient's home. Community-based rehab is usually delivered by Medicare-certified home health agencies, but there are physical therapy practices that specialize in home visits as well.
All settings produce positive outcomes in stroke rehab. When the choice is either/or, home health tends to achieve similar to superior outcomes for mild to moderate stroke. Inpatient rehab tends to achieve similar or superior outcomes for moderate to severe stroke.2 On the other hand, the choice should not be either/or. Professor Peter Langhorne's research published in the Lancet finds that best outcomes occur when patients receive inpatient rehab followed promptly by home health rehab.3
What is Rehospitalization?
Rehospitalization means a patient was discharged from a hospital and must return within a certain timeframe. A higher rate suggests lower quality of care and less patient protection. Medicare uses 30-day rehospitalization rates to adjust overall payment rates – effectively penalizing those hospitals and nursing homes with more rehospitalizations.
How Home Health Improves the Outcomes of Inpatient Rehab
In the current study, Dr. Hong and colleagues find that stroke survivors discharged from inpatient rehab without home health experience up to three times the rehospitalization risk. How could more rehab benefit stroke survivors after they have already been discharged from an expert facility? Home health seamlessly combines the services of nurses, physical therapists, occupational therapists, speech therapists, and even home health aides, but inpatient rehab also offers multi-disciplinary rehab. Here are advantages that home health rehab can add:
Continued professional guidance: Inpatient rehab facilities tend to discharge patients when they can do their exercises on their own. Continued professional guidance at home encourages adherence to the exercise plan. Furthermore, professional guidance helps patients more efficiently progress their exercise plan as they get stronger and more capable.
Training specific to the home: Every home and every patient is unique. Therefore, stroke survivors at home often have challenges that are specific to them. When therapists visit the home, they can see what each patient is dealing with and tailor training and strategies designed to improve independence and safety.
Helping family caregivers: When stroke survivors return home, they often have new disabilities that increase demands on spouses and other family caregivers. These caregivers may need new training or help with daily tasks. The preparedness of the family caregiver directly affects patient outcomes such as rehospitalization. Additionally, when the family caregiver is over-burdened the mortality rates of both the patients and the family caregivers spikes. Home health gives nurses and therapists increased access to family caregivers, so home health is in a better position to support them in various ways.
References
Hong I, Knox S, Pryor L, Mroz TM, Graham J, Shields MF, Reistetter TA. Is Referral to Home Health Rehabilitation Following Inpatient Rehabilitation Facility Associated With 90-Day Hospital Readmission for Adult Patients With Stroke?. American Journal of Physical Medicine & Rehabilitation. 2020 Sep;99(9);837-841.
Teasell R, Foley N, Richardson M, et al. Evidence-based review of stroke rehabilitation. Outpatient Stroke Rehabilitation. 2018; pp 1-28.
Langhorne P, Taylor G, Murray G. et al. Early supported discharge services for stroke patients: a meta-analysis of individual patients' data. Lancet. 2005;365:501-6.