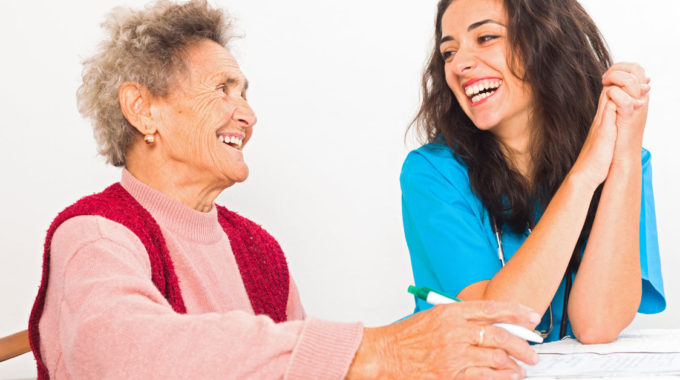 How Much Does Home Care Cost?
In the U.S., the average cost of a private-pay home health aide was $22 per hour in 2018.1 However, there's much more to this story. Costs range widely between agencies and between localities. Establishing an affordable assistance plan can be crucial to the health and happiness of seniors who are many years into retirement. Here we discuss different meanings of home care, how to shop for the best price, differences to look for between programs, and when to consider residential care.
What Do We Mean by Home Care?
The $22-per-hour aide refers to hiring an aide, through an agency, for non-medical home care. Aides help with activities of daily living such as meal prep, mobility assistance, bathing, fall safety, cleaning, and laundry. They go by titles such as personal care aides, certified nursing assistants, and home health aides. Homemakers may refer to people who perform house chores and don't have the same healthcare training as an aide. Some agencies make homemakers available for about 4% less.
If we consider medical home care that requires a nurse, that will cost more. Legal scopes of practice will bar aides from performing some important activities. Only a nurse can perform these important home care activities:
Taking orders from a doctor over the phone
Taking pills out of bottles
Giving shots or managing IVs
Catheter care
Pressure ulcer care
Looking after clients on a ventilator
Home care nurses will cost closer to $28 per hour or $90 per visit. However, individual service plans may have nurses come and go for the specific activities that require their expertise and have aides stay longer to perform most of the care.
Does Home Care Cost Less than Residential Care?
Yes and no. First, there are multiple levels of residential care. A private room at an assisted living facility averages $4,000 per month.1 However, a semi-private room at a nursing home averages $7,441 per month. The home care comparison depends on how many hours you need. With assisted living, the amount of personal attention a resident receives may only add up to a few hours per day, but there is always help right around the corner when needed. The beauty of home care is that service plans can be customized to a senior's exact needs. Some seniors only get around eight hours of service per week, while others receive 24-hour home care. The cost of private-duty home care only adds up to the cost of an assisted living facility when a senior orders 40+ hours of home care per week.
What is the Range in Home Care Costs?
Twenty-two dollars per hour is the national average cost for a home health aide, but that number varies widely by locality. In New York, NY, the cost averages $25 per hour. Agencies in the state of Washington average $28 per hour, while home care agencies in Louisiana charge an economical average of only $16 per hour. Economy is one driving factor. Another driving factor is how well state Medicaid programs pay for home care in each state. Medicaid waiver programs tend to set the floor for how much aides can make in each state.
How Much Can I Save by Hiring Privately?
An analysis by Indeed estimates that home care aides make roughly $13 per hour.2 Families may be aware of this number and immediately start thinking about saving around $9 per hour. For most families who can afford private pay home care, this is a bad trade off. First, there's the time and expense of advertising a job, screening, and hiring aides. These tend to be high-turnover positions that will need to be filled every 18 months on average. Then there's worker's compensation insurance (or the liability of having a worker in your home without that), Medicare employer contributions, and Social Security employer contributions – not to mention the time involved with managing payroll. Finally, there's paid holidays and sick time. Holidays typically result in a week of paid time off cumulatively over a year, as does sick time. The time that family must take off work to cover these three weeks per year, plus covering the time between employees, plus the time involved with management tasks tends to make the agency pay for itself. Add to this the fact that the agency will tend to perform these tasks with more expertise that a private individual.
A Tip for Finding Lower Costs
First, be aware that Medicare pays for some home care on a temporary basis. If someone has a medical need for nursing or therapy, such as when returning home from a surgery or illness, Medicare pays 100% and covers some non-medical home care. Also, for low-income seniors, Medicaid pays up to 100% for long-term, non-medical home care.
If paying privately, here's one tip for finding the lowest price. Look for Medicaid agencies. Check the websites and see if the agency advertises participation in Medicaid waiver programs. Medicaid waiver programs typically pay the lowest of any third-party payor. If an agency is advertising participation in one of these programs, it means they are set up to work with low pay! They usually won't use the term "waiver," but you will probably be able to see Medicaid -or what your state calls Medicaid- and a list of non-medical tasks they will perform.
This strategy comes with important trade-offs. For one, aides working Medicaid programs tend to be the lowest paid aides, which, theoretically speaking, means the private-duty agencies have the first-pick employees. Two, Medicaid programs tend to limit services in important ways, and agencies that focus on Medicaid tend to incorporate those limitations into their overall policies. Families will find private-pay agencies much more likely to provide services such as
Weekend care
Overnight care
Schedules greater than 40 hours
Transportation assistance
Work in the house when the patient is not there
Errands and shopping
Attendance to appointments or outings
Hospital attendants
Heavy cleaning (for an additional fee)
In conclusion, the national average cost of non-medical home care is $22 per hour. However, from state to state, this cost may range from $16 to $28 per hour. Hiring privately looks like a good deal but tends to not pay for itself in the end. Medicare may pay for home care when there is also a skilled need and there was a recent illness or injury. For low-income seniors who would otherwise qualify for nursing home care, Medicaid may pay up to 100% for home care. In some localities, agencies will vary widely in cost, but there are often important differences in the services being offered as well.
References:
Genworth Cost of Care Survey 2018, conducted by CareScout®, June 2018.
Private Duty In-Home Care Salaries in the United States. Salary estimated from 1,290 employees, users, and past and present job advertisements on Indeed in the past 36 months. Last updated: August 25, 2019.