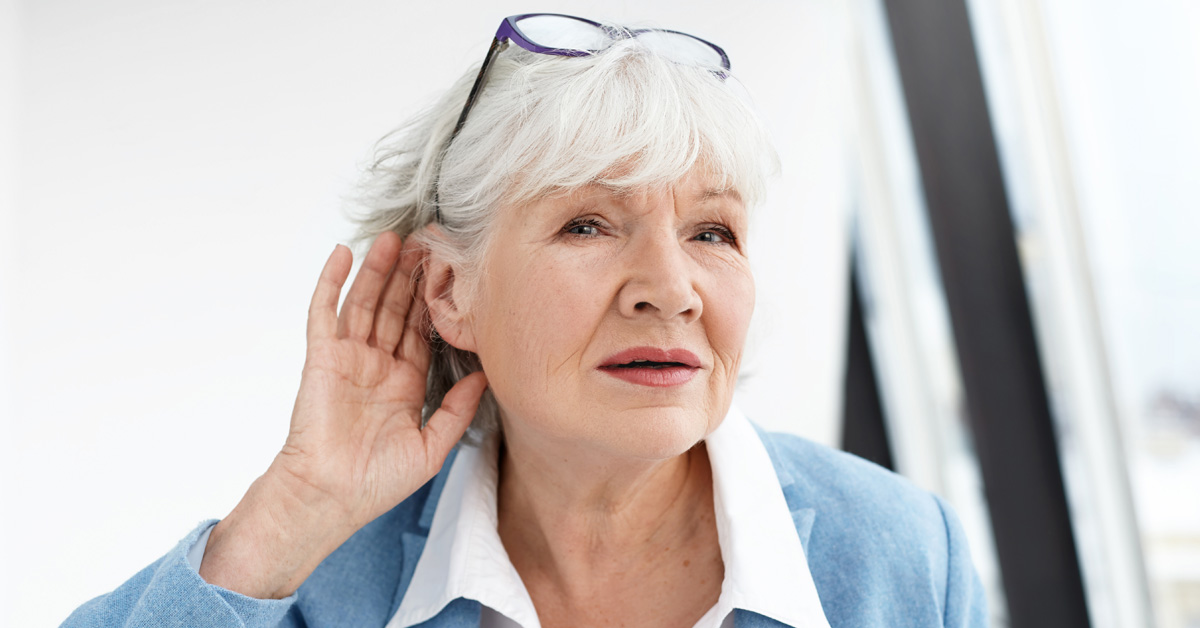 Stopping Age-Related Hearing Loss from Creating Other Health Problems
With all the different ways hearing loss could affect a person's life, it may be easy to overlook how it can affect their healthcare. Hearing loss is very common. Almost three quarters of people age 70+ have hearing loss. Two thirds of septuagenarians experience hearing loss in both ears.1 What's more, age-related hearing loss progresses so slowly that many people do not realize how much they are missing.2 With hearing loss that common, audiologists are sounding the alarm about how this may be affecting healthcare outcomes for other problems.3 We also have tips for overcoming those problems.
Hearing Loss in the Exam Room
Clearly, retirees tend to have multiple health conditions, several medications, other complex healthcare instructions to follow, and plans that change periodically. Effective communication from clinician to patient proves key for optimal healthcare outcomes in these situations. Unfortunately, when hearing loss is not addressed well, it can interfere with this healthcare in two ways.
When people strain to hear their doctors, the effortful listening requires more cognitive resources. Straining of cognitive resources results in reduced working memory and lower retention of information.4
The less technical scenario may be worse. Seniors with hearing loss often want to avoid being a bother. They nod in agreement while not catching all the important words.
Signs of Hearing Loss
Sherry Queen, in her dissertation published this month, offers doctors signs of hearing loss for which to watch.3 Queen writes from the perspective of clinicians treating patients staying in facilities, but these points can be adapted to the exam room and home care.
Nodding or using body language to communicate understanding, but then not being able to answer questions about what was just said.
Repeatedly asking "what" or for the clinician to repeat what was said.
A failure to follow doctors' orders that seems like misunderstanding or forgetfulness.
Speech reading – meaning focusing on the speaker's mouth to supplement missing auditory information.
Lower engagement in the social portions of conversations.
Listening to the TV at higher volumes or complaints of unintelligible speech from the TV.
Increased difficulty understanding phone conversations.
Strategies to Stop Hearing Loss from Affecting Healthcare
Encourage seniors to speak out when they cannot hear a doctor or nurse.
Sit closer to the senior.
Speak directly to the senior and not to other people in the room.
Use a strong volume and a lower tone of voice. Hearing for high-frequency sounds usually fades first.
Make sure the senior can clearly see the lips of the speaker (infection protocols allowing).
Use the teach-back method. That means, after laying out a plan, ask people to explain—in their own words—what they need to know or do, in a caring way. It is not quizzing, and this method is helpful in healthcare situations for all ages.
Combine printed presentations with verbal instructions.
Get a hearing test from a professional such as your local audiologist. In the meantime, check out this free online hearing test: https://www.resound.com/en-us/online-hearing-test.
Order home health. Any time a homebound senior has a change in medical instructions, Medicare will pay 100% for a home health nurse if needed. A home health nurse can make multiple visits to go over all the teaching at the right pace. Then, the nurse can return days and weeks later to make sure everything is going according to plan.
References
Goman AM, Lin FR. Prevalence of hearing loss by severity in the United States. American Journal of Public Health. 2016 Oct;106(10):1820-2.
Smith AK, Jain N, Wallhagen ML. Hearing loss in palliative care. Journal of Palliative Medicine. 2015 Jun 1;18(6):559-62.
Queen SE. Optimizing Communication in Palliative and Hospice Care: A Toolkit for Audiologists. CUNY Academic Works.
Picou EM, Ricketts TA, Hornsby BW. How hearing aids, background noise, and visual cues influence objective listening effort. Ear and Hearing. 2013 Sep 1;34(5):e52-64.