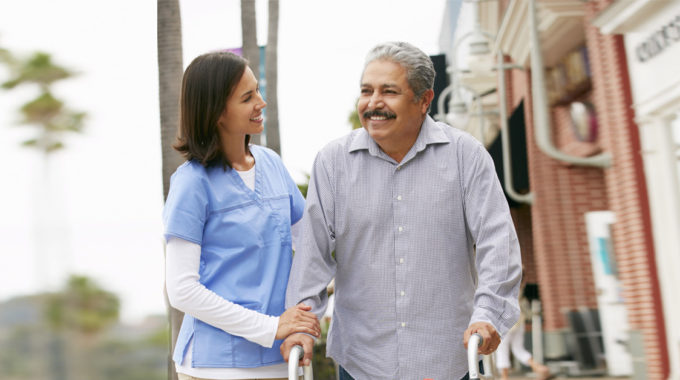 What Home Care Does Medicaid Pay For?
Medicaid is a government-funded health insurance program covering millions of Americans including elderly people, children, disabled people, pregnant women, and people with low income. Where home care is concerned, Medicaid offers coverage for both short-term home nursing and rehab and for long-term in-home aide services. However, coverage, services, qualifications, and access vary widely from state to state. The coverage usually pays 100% for services or involves very low copays (not counting Medicaid spend-downs, which is a separate issue). Medicaid is a 50/50 partnership between the United States government and individual states. The U.S. government sets the ground rules, and then individual states have some flexibility to exclude certain coverages, add benefits, modify rules, and even rename the program to something other than "Medicaid." Another important feature to keep in mind is that Medicaid is always the payor of last resort. This means if other health insurance is applicable, it must pay its full benefit before Medicaid kicks in. Here, we will explain a few more details of what home care Medicaid pays for.
With Medicaid, Access to Care May be Limited
Compared to the average patient, people paying with Medicaid often find it more difficult to access care – especially in medical home health. Medicaid's characteristically low payments cause this. For home health agencies, getting authorized to bill Medicaid usually requires a special application process. Some agencies will simply skip this process. Other home health agencies that are authorized to bill Medicaid may put quotas on the number of Medicaid cases they can take. The quotas often exist as a ratio to Medicare cases or a percentage of overall census. As Medicare continues to squeeze the profits out of home health, the capacity for home health agencies to take on Medicaid at or below cost also shrinks.
Your doctor or discharge planner will often be able to help you find a medical home health agency that will take Medicaid. In some cases, they may even use their influence with home health agencies to negotiate on your behalf. That being said, most areas contain one or more medical home health agencies that will very happily take Medicaid. This is especially true among newer home health agencies that may have achieved Medicaid approval before Medicare approval, and Medicaid is their primary source of income. If a family is searching for a medical home health agency independently, it's usually just a matter of calling ten to twenty agencies to find the ones that will readily say "yes" to Medicaid.
For non-medical, long-term, in-home aide services, a similar dynamic exists. Some home care agencies are set up for Medicaid and others are not. It's often just a matter of calling several agencies serving the area and asking (1) "Do you provide non-medical home care?" and (2) "Do you take Medicaid?" If the answer is "no," ask for a couple of choices of agencies that do. For this type of search, the local city or county health department is often a good resource as well.
Who Qualifies for Medicaid-Funded Medical Home Health?
In every state, Medicaid will pay for home nursing and rehab if there is a medical need. This means your doctor must certify the need for nursing, physical therapy, or speech therapy at home. Interestingly, Medicaid rules do not allow a homebound criterion. Medicaid does not require that patients meet any definition of homebound to be eligible for home health services. The doctor simply must deem that a patient's home is the best place for the services in question. In practice, however, needing a service at home usually means it's a big effort for the patient to leave home at the prescribed frequency.
What Are Medicaid Waiver Services?
If Medicaid is paying for non-medical home care, this is usually taking place through a Medicaid waiver program. In the past, Medicaid only paid for custodial care if a person was in an institution such as a nursing home. In 1991, Medicaid offered states several "waivers" to the inpatient requirement. Under these waiver programs, Medicaid gave guidelines for states to offer non-medical care to people in their own homes. States then applied for these waivers to create their own programs. States often customize the basic programs in their waiver applications. Therefore, from state to state, many programs have the same features required by federal rules but may be customized on top of that.
The waiver programs are not one thing. There are more than 300 home and community-based services waivers. They range from services for seniors to care for people with AIDS to care for people with mental disabilities. The most common application is personal care services for retirees who would otherwise be eligible for Medicaid-funded nursing home care. This program, and most others, focus on sending nurse-supervised aides to the homes of clients who should have help with activities of daily living. These personal care aides help with tasks such as medication reminders, cleaning, meal prep, mobility assistance, bathing, feeding, dressing, and more. The personal care aides often supplement the care of a primary family caregiver who is also performing these tasks.
Do Medicaid Waiver Services Save Money for States?
At first, Medicaid waiver programs resulted in a huge cost savings for state and federal funds. They gave people the ability to stay at home with a little support rather than moving into a nursing home or assisted living facility. Home care costs a fraction of institutionalization. In time, the overall cost savings involved came into question, though. Medicaid services created what some legislators, perhaps pejoratively, called the "woodwork effect." This refers to the fact that retirees are much more likely to accept home care than they are to accept institutionalization. People who would not have accepted nursing home placement anyway did accept home care services. From the perspective of state budget officials, nursing-home-eligible seniors were "coming out of the woodworks" – as the old colloquialism goes.
Even with the so-called woodwork effect, later analysis suggested that Medicaid waiver services saved tens of billions for the Medicaid program. Since states are footing a portion of those bills as well, they will likely be saving hundreds of millions from well managed waiver programs.