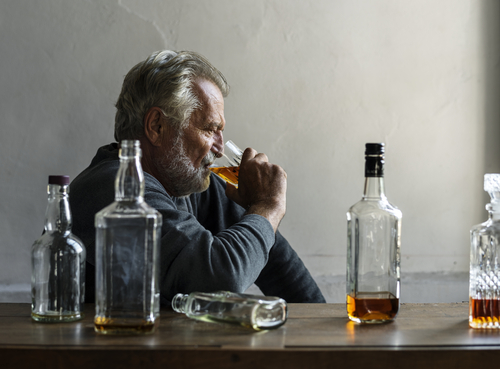 Alcohol-Induced Dementia: An Epidemic on the Rise?
Alzheimer's disease and other general forms of dementia tend to make the headlines because of the tremendous health risks they pose to seniors. The cost of these diseases is on the rise, and researchers and physicians alike are racing to find cures and treatments. Yet for all the attention these main forms of dementia receive, there is another form of dementia that is less talked about. Steeped in stigma, the public appetite to discuss alcohol-induced dementia is far less than that of other dementias. Alcohol-induced dementia, however, is on the rise, as is alcohol abuse by Americans 65 and older. A potential epidemic looms, and we need to talk about it.
Facing the stigma of alcohol-induced dementia
Americans have a problem with alcohol problems. There still exists a tremendous stigma associated with mental health and addiction, and this stigma makes it difficult to broach the topic of alcohol abuse. The nation, however, is increasingly facing a public health crisis related to addiction and substance abuse. A recent study published by JAMA Psychiatry found that one in eight Americans struggle with alcohol abuse. More concerning, they found that the rate of alcohol abuse in those 65 and older has more than doubled in the past decade.
With alcohol abuse rates on the rise, so too are incidences of alcohol-induced dementia. This growing number of dementia sufferers, however, do not make the headlines, nor are there ample efforts to stop the rise in incidences. A significant and growing population of dementia sufferers are being left behind. It's time to face the stigma of alcohol-induced dementia, recognize there is a problem, and begin to educate the public and healthcare professionals on how to minimize the risk and correct substance abuse issues in seniors before they pose a major health risk.
Causes of alcohol-induced dementia
The mechanisms behind alcohol-induced dementia are quite simple and fairly well understood. Alcohol abuse damages internal organs, including the liver and the kidneys. As these organs become more damaged, they are less able to function properly. The liver in particular, which is responsible for supplying nutrients to the brain and filter blood, looses the ability to properly digest and supply vitamin B1, also known as Thiamin, in the presence of alcohol.
Thiamin deficiency leads to cognitive impairments that, if left untreated, result in a condition called Wernicke-Korsakoff Syndrome. This syndrome is a combination of two separate conditions brought on by thiamin deficiency. Korsakoff's dementia is the cluster of symptoms related to memory and cognitive difficulties. Wernicke's encephalopathy causes stumbling, a loss of coordination, abnormal eye movements, and confusion due to a sudden lack of thiamine. Korsakoff's dementia is longer-lasting and may occur without Wernicke's encephalopathy being associated with it, although Wernicke's often occurs just before Korsakoff's.
According to American Addiction Centers, it is possible for this form of dementia to clear up if a person stops drinking; however, it may become permanent, especially among people who are elderly and who have struggled with an alcohol use disorder for decades. It is this risk, of permanent, irreversible brain damage and dementia among the elderly, that is of most concern.
Support services for alcohol-induced dementia
While not as easy to find as other dementia support services, there are some educational and support services available to help loved ones of alcohol-induced dementia sufferers. The Alzheimer's Association offers support materials for those who believe their loved ones are suffering from alcohol-induced dementia.
Certain treatments exist for alcohol-induced dementia, so long as the damage is not too extensive. Cessation of drinking is paramount if there is any hope of reversing symptoms. Thiamin supplementation is commonly used to stop the progression of alcohol-related dementia, and this treatment is often enough to clear up symptoms. However, in those whose symptoms do not improve with treatment and cessation of alcohol consumption, it may be necessary to consider a long-term care facility.
What you can do to help
Educate yourself on the signs of an alcohol abuse problem before they grow into something worse. Coordinate with your loved one's primary care physician if you have any concern about their alcohol use, or if they are showing signs of alcohol-related dementia. They may need to be fast-tracked into an addiction treatment program to stop drinking. Lastly, drop by the National Council on Alcoholism and Drug Dependence for information on how to initiate open discussions with your loved one about their alcohol use and abuse.