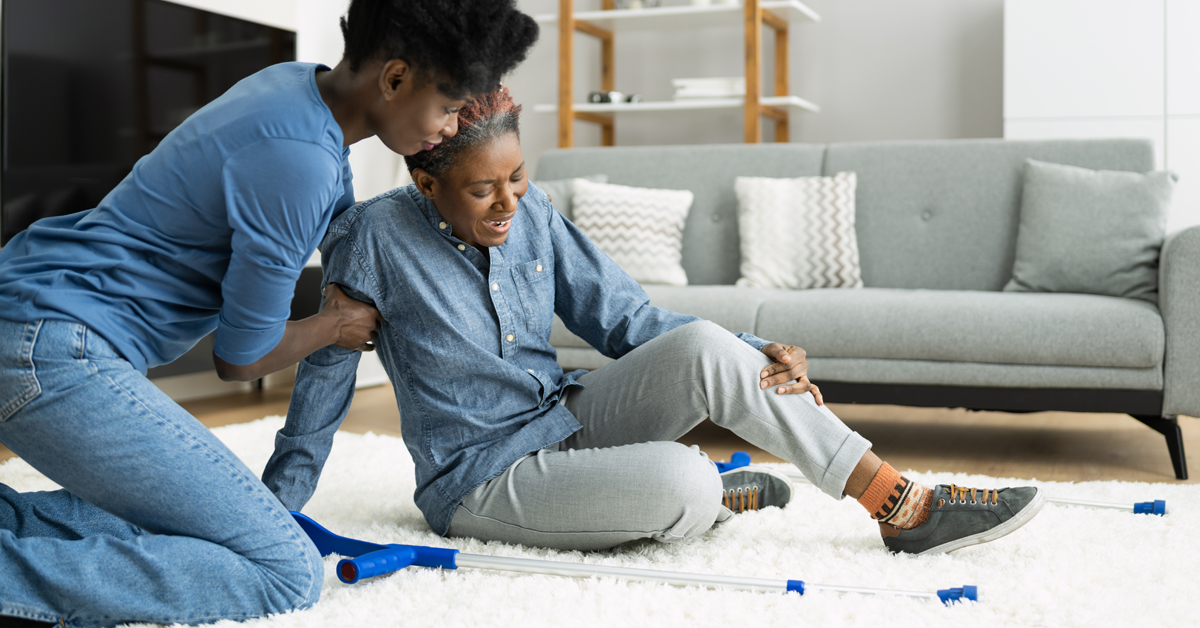 Trends Show Increase in Age-Adjusted Fall Death Rates
Falls are a leading cause of unintentional injury and injury-related death among people age 65 and older. What's more, the age-adjusted fall death rate in the United States has increased 41% over a decade. Falls commonly produce bruises, hip fractures, and head trauma. Additionally, these situations can increase the risk of an early death or make it difficult for older adults to live independently.
The rising number of deaths from falls among older adults can be addressed by screening for fall risk and intervening to address risk factors such as medication side effects, poor strength, and balance.
Age-adjusted Fall-death Rate by Year
From 2012-2020, the age-adjusted fall-death rate among seniors in the United States climbed 41%, from 55.3 per 100,000 older adults in 2012 to 78.0 per 100,000 in 2020. It is important to note that this rise is not the result of an aging population. The CDC age-adjusts these rates, so they are not affected by population distribution.
United States, Age-adjusted Fall-death Rate by Year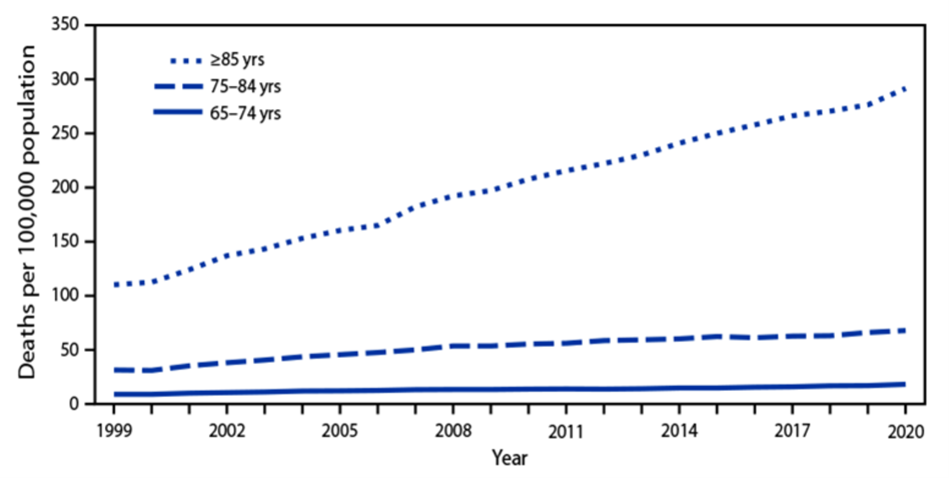 Risk Factor for Falls
A fall risk factor is something that increases a person's risk or susceptibility to falling. Preventing falls is not an easy task, because falls are complex events caused by a combination of impairments, disabilities, and environmental hazards.4 In a study published in The New England Journal of Medicine, conducted by Mary Tinetti, M.D., the following risk factors were associated with falls in older adults.
Polypharmacy
Balance
Transfer skills (moving from bed to chair or to the bathtub or toilet)
Gait
Range of motion
How to Prevent Senior Falls at Home
According to the National Council on Aging, more than 75% of falls happen in the home.2 There are a number of improvements that can be made to a home to make it more senior-friendly. Some common modifications can include:
How To Get Medicare to Pay 100% For Fall Prevention
Home health stands out as a primary source for fall injury prevention programs. When seniors qualify, Medicare pays 100%. Home health sends nurses and therapists to the homes of seniors for medication review, home safety assessment, gait training, fall safety training, and more. To qualify for Medicare-funded home health, patients must meet Medicare's definition of homebound (which is not as restrictive as it sounds) and some other criteria.
Consider Home Care
If a loved one has one or more fall risk factors or has fallen in the past, it may be time to consider home care. Aides can help provide assistance with:
References
Centers for Disease Control and Prevention, National Center for Health Statistics. National Vital Statistics System, Mortality 2018-2021 on CDC WONDER Online Database, released in 2021. Data are from the Multiple Cause of Death Files, 2018-2021, as compiled from data provided by the 57 vital statistics jurisdictions through the Vital Statistics Cooperative Program. Accessed at http://wonder.cdc.gov/ucd-icd10-expanded.html on March 27, 2023


Centers for Disease Control and Prevention. Deaths from Older Adult Falls [Internet]. Accessed May 5, 2023. Available from www.cdc.gov.


The National Council on Aging. 18 Steps to Fall Proofing Your Home. [Internet]. Accessed May 5, 2023. Available from https://www.ncoa.org/article/18-steps-to-fall-proofing-your-home.


Baranzini F, Diurni M, Ceccon F, Poloni N, Cazzamalli S, Costantini C, Colli C, Greco L, Callegari C. Fall-related injuries in a nursing home setting: is polypharmacy a risk factor? BMC health services research. 2009 Dec;9:1-0.


Tinetti ME, Baker DI, King M, Gottschalk M, Murphy TE, Acampora D, Carlin BP, Leo-Summers L, Allore HG. Effect of dissemination of evidence in reducing injuries from falls. New England Journal of Medicine. 2008 Jul 17;359(3):252-61.