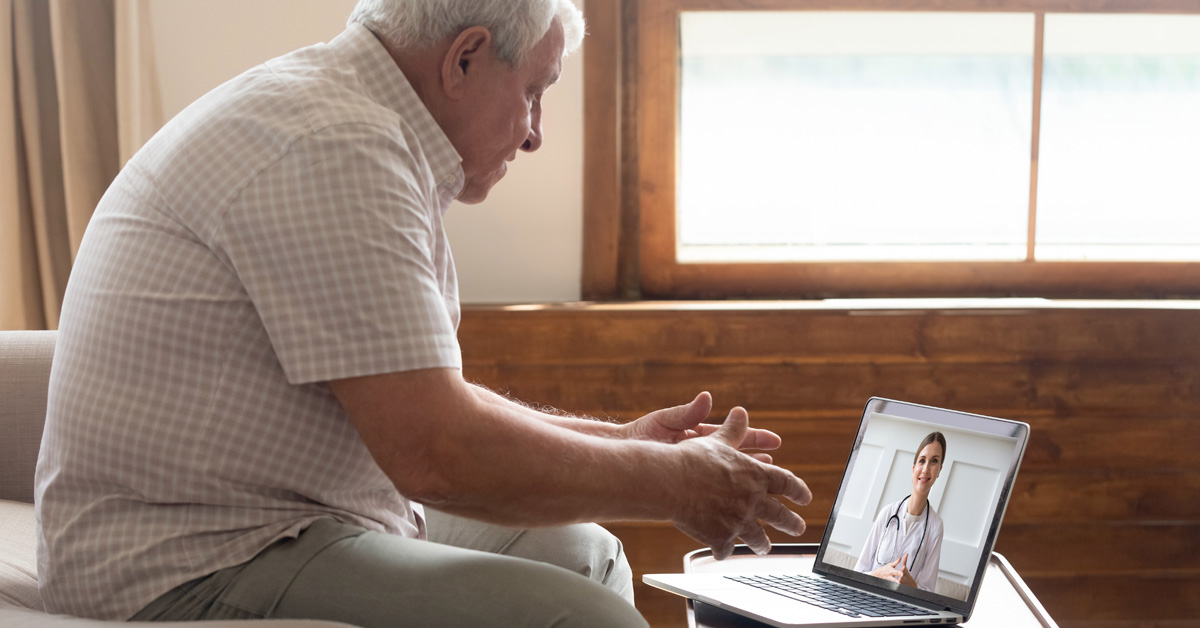 Will Telehealth Go Back to Near Zero? Should It?
The Centers for Medicare and Medicaid Services (CMS) performed a large survey of Medicare customers between summer and fall of 2020, and CMS recently released results. The results show an explosion of telehealth. The question now is "Will telehealth continue?" and "Should it?"
What is Telehealth
The Department of Health and Human Services defines telehealth as "use of electronic information and telecommunication technologies to provide care when you and the doctor are not in the same place at the same time." Interestingly, the majority (56%) of telehealth encounters occurred over the phone in summer and fall of 2020. Only 44% involved video conferencing. Doctors have reported that patients have trouble using the video software. Even after a video conference appointment has been made, the meetings often revert to a phone call.
Home care workers have proven instrumental in the use of telehealth among retired patients. When video conferencing is successful, there is often a facilitator scheduled to be with the patient such as a family member, a home health nurse, or a home care aide.
How Popular is Telehealth?
Prior to the pandemic, less than 1% of Medicare customers received telehealth. In the recent survey, 27% of them report using telehealth. Now, over a quarter of Medicare beneficiaries use telehealth.
Medicare customers also report expanded availability. Currently, 64% say their usual healthcare provider offers telehealth. That's up from 18% in the 2016 survey. Probably in the course of months, the availability of telehealth more than tripled.
Telehealth Explosion More About Regulations than Public Demand
This explosion of telehealth was more than doctors simply responding to a need for social distancing. It may be fair to say that CMS caused telehealth to become more available. Prior to the pandemic, Medicare only paid certain types of providers for telehealth and only for the most geographically isolated Medicare customers. In March 2020, under declaration of emergency, CMS lifted most restrictions on telehealth (including strict enforcement of privacy laws). This opened the flood gates for a more convenient mode of healthcare.
Will CMS End Telehealth?
The problem with this scenario is that CMS may not maintain it. The federal declaration of emergency must end at some point. Although, the Biden administration has signaled an intention to maintain the state of emergency through the end of 2021. When the state of emergency ends, CMS's authorization to liberalize telehealth regulations ends with it. Only the U.S. Congress can decide if America's seniors will continue to have this access to telehealth past the state of emergency.
Representative Mike Thompson (D-CA), of the House Ways and Means Committee, introduced a bill in January seeking to make permanent the availability of telehealth for some Medicare customers. Likewise, in February, Senator Tim Scott (R-SC), of the Senate Finance Committee, introduced the Telehealth Modernization Act, which also intends to extend certain flexibilities. Two other bills introduced respectively by Senator Ron Wyden (D-OR) and Representative Mikie Sherrill (D-NJ-11) also propose more permanent expansions of telehealth.
Should CMS End Telehealth?
On the other hand, some legislators show more interest in analyzing the impact of telehealth. Are in-person healthcare visits better? If so, does availability trump quality? Perhaps the data answering those questions is being collected at this moment.
Reference
Bosworth A, Ruhter J, Samson LW, Sheingold S, Taplin C, Tarazi W, Zuckerman R. Medicare beneficiary use of telehealth visits: Early data from the start of COVID-19 pandemic. ASPE Issue Brief. 2020 Jul 28.