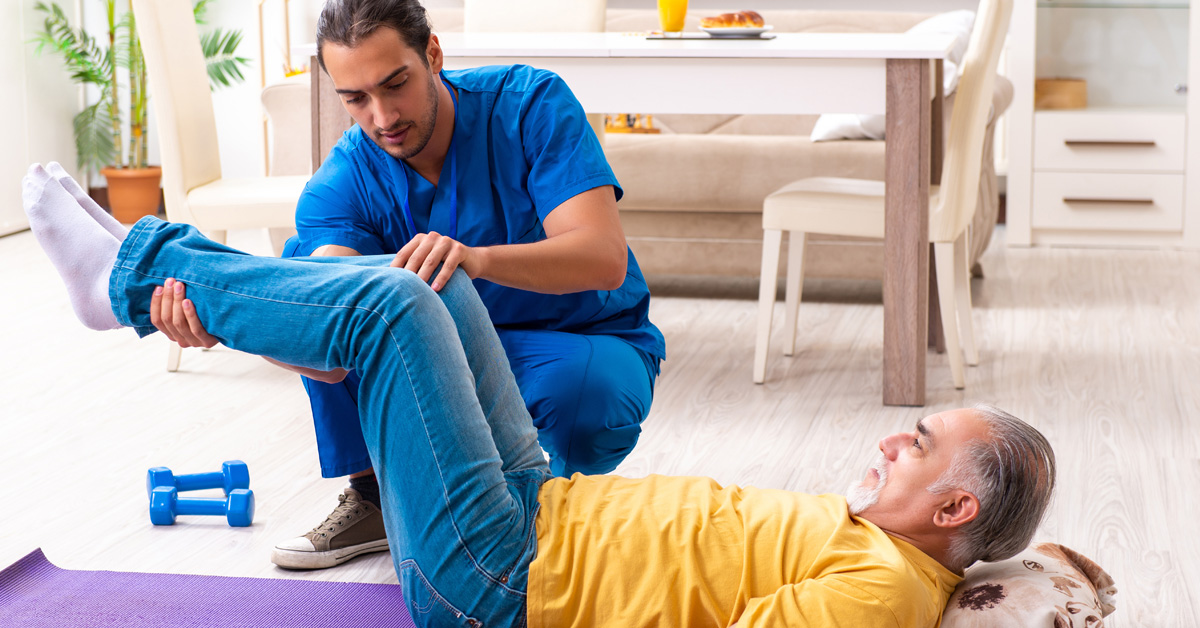 Will You Get Enough Rehab After Surgery?
Rehab after surgery decreases pain and improves outcomes. This is especially true for orthopedic surgeries such as knee and hip replacements. The right amount of rehab is even associated with lower risks of chronic opioid use. But how much rehab is enough? How much is more than needed? In October, the Journal of the American Medical Association, published a first-of-its-kind study examining this question.1 It looks like most people receive less than the optimal amount of rehab. Read more to learn how to protect yourself and your family.
Boston University Study About Getting Enough Rehab After Surgery
Kosaku Aoyagi, PT, PhD, of Boston University School of Medicine, and his colleagues used Medicare records to create a high-powered study. Compiling data from more than 63,000 total knee replacements (TKRs), they examined the association between outpatient rehab and chronic opioid use. Following a TKR, most people receive a standard course of rehab before being discharged to home. Outpatient rehab patters prove much more variable. Therefore, the research team examined outpatient physical therapy (PT). They conclude that outpatient rehab before the surgery, after the surgery, earlier rehab, and more rehab each independently improved results.
Chronic Opioid Use Following Surgeries
In a broader sense, chronic opioid use serves as a surrogate for measuring surgery outcomes. Chronic opioid use following a surgery suggests incomplete pain resolution. Moreover, opioid use carries well recognized risks of morbidity, mortality, and disability.2 Chronic opioid use after a total knee replacement has been measured as high as 53%.3 Specifically, that was among patients who had been prescribed opioids previously. For patients who have never been prescribed opioids before, across various reports and procedures, chronic opioid use has ranged from 1% to 44% after surgeries.3,4
Outpatient Physical Therapy Improves Surgery Outcomes
The current study in the Journal of the American Medical Association analyzed the risk of chronic opioid use after TKR, relative to outpatient physical therapy patterns. Here is what they found.
Before: Outpatient PT before a TKR surgery improves results up to 25%
After: Outpatient PT after a TKR surgery improves results up to 25%
More: More outpatient PT after a TKR is better. They grouped patients as receiving 1 – 5 sessions, 6 – 12, or ≥ 13 sessions. Greater than 13 PT visits was associated with the best outcomes – up to a 29% improvement.
Earlier: Earlier outpatient PT is better. They grouped patients by when their outpatient PT began: 0 – 30 days, 31 – 60 days, and 61 – 90 days. The earliest outpatient PT group saw improvements of up to 45%.
The current study adds to the results of previous studies showing that, following a TKR, a greater number of physical therapy sessions as well as earlier initiation results in better outcomes in terms of pain and function.5-8
Home Health for Rehab After Surgery
Medicare-certified home health stands out as an excellent option for rehab after total knee replacements, hip replacements, and other surgeries. Having nurses and therapists visit patients at home lets patients leave the hospital earlier and get outpatient rehab earlier. Additionally, when patients qualify for home health, Medicare pays 100%. That means no co-pay, no deductible, and no cost-sharing of any kind for the patient. If you are planning a surgery, plan for rehab as well. If you are likely to be unable to leave home independently (aka homebound) for some time after the surgery, start researching your options among local Medicare-certified home health agencies. Call 1800HOMECARE to connect with a home care agency near you.
References
Aoyagi K, Neogi T, Peloquin C, et al. Association of physical therapy interventions with long-term opioid use after total knee replacement. JAMA Network Open. 2021; 4(10):e2131271.
Pizzi LT, Toner R, Foley K, Thomson E, Chow W, Kim M, Couto J, Royo M, Viscusi E. Relationship between potential Opioid‐Related adverse effects and hospital length of stay in patients receiving opioids after orthopedic surgery. Pharmacotherapy: The Journal of Human Pharmacology and Drug Therapy. 2012 Jun;32(6):502-14.
Goesling J, Moser SE, Zaidi B, Hassett AL, Hilliard P, Hallstrom B, Clauw DJ, Brummett CM. Trends and predictors of opioid use following total knee and total hip arthroplasty. Pain. 2016 Jun;157(6):1259.
Lawal OD, Gold J, Murthy A, Ruchi R, Bavry E, Hume AL, Lewkowitz AK, Brothers T, Wen X. Rate and risk factors associated with prolonged opioid use after surgery: a systematic review and meta-analysis. JAMA Network Open. 2020 Jun 1;3(6):e207367-.
Pua YH, Seah FT, Poon CL, Tan JM, Liaw JC, Chong HC. Association between rehabilitation attendance and physical function following discharge after total knee arthroplasty: prospective cohort study. Osteoarthritis and Cartilage. 2017 Apr 1;25(4):462-9.
Brennan GP, Fritz JM, Houck LK, Hunter SJ. Outpatient rehabilitation care process factors and clinical outcomes among patients discharged home following unilateral total knee arthroplasty. The Journal of Arthroplasty. 2015 May 1;30(5):885-90.
Liebs TR, Herzberg W, Rüther W, Haasters J, Russlies M, Hassenpflug J, Project MA. Multicenter randomized controlled trial comparing early versus late aquatic therapy after total hip or knee arthroplasty. Archives of physical medicine and rehabilitation. 2012 Feb 1;93(2):192-9.
Falvey JR, Bade MJ, Forster JE, Burke RE, Jennings JM, Nuccio E, Stevens-Lapsley JE. Home-Health-Care Physical Therapy Improves Early Functional Recovery of Medicare Beneficiaries After Total Knee Arthroplasty. JBJS. 2018 Oct 17;100(20):1728-34.