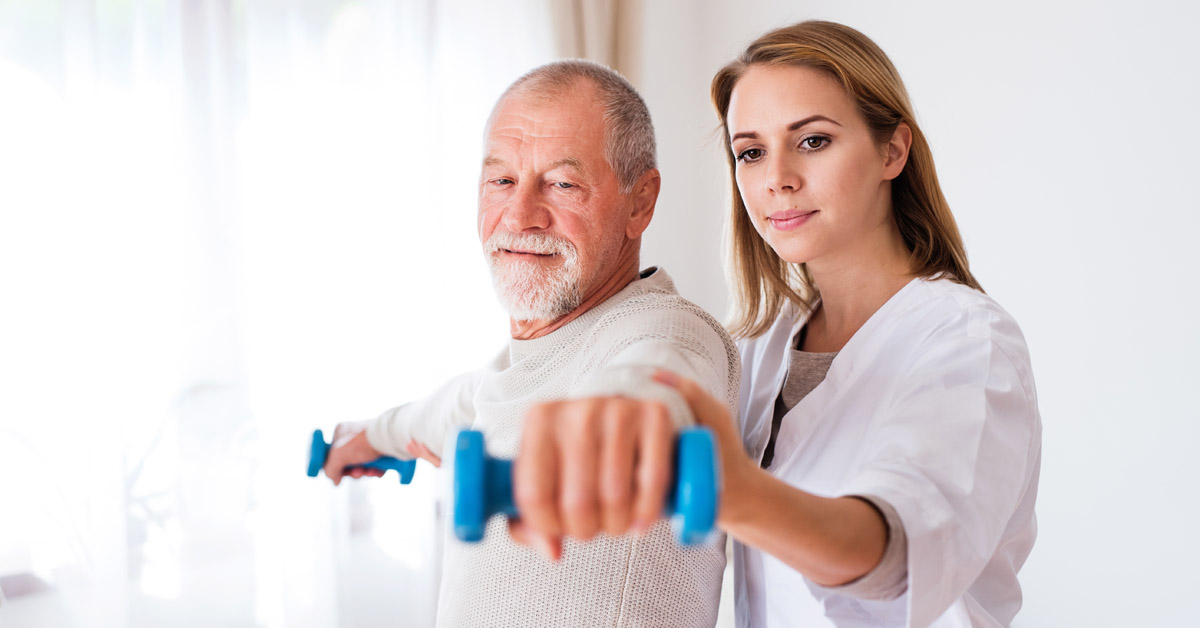 Difference Between Physical Therapy and Occupational Therapy
Are you experiencing knee pain and struggling to navigate the stairs? Or maybe carpal tunnel syndrome makes it difficult to use the computer? Or perhaps you accidentally injured yourself while doing yard work. You are certain you need medical care, but it might be confusing to know where to turn. How do you decide which therapy is best for you – physical therapy or occupational therapy?
Physical therapy and occupational therapy are types of rehabilitative care that share similar goals and treat some of the same conditions, but they also differ. Both can help restore physical abilities, decrease pain, and improve mobility by creating a plan designed for everyone's needs. It is important to see a therapist with the right kind of training to treat the injury or medical condition.
What Is Physical Therapy?
The American Physical Therapy Association (APTA) defines physical therapy as "movement experts who optimize quality of life through prescribed exercise, hands-on care, and patient education." Physical therapists help people move better and feel better after injury, surgery, or illness.1 They use a variety of exercise techniques and physical modalities to decrease pain, improve range of motion (ROM), strength, balance, and endurance.
A physical therapist focuses on the patient's total body. Treatment is centered around the lower body, upper body, or cardiorespiratory system. The physical therapist will work to help regain functional mobility if you are having difficulty moving around.
Physical therapists focus on treating pain, increasing range of motion, and addressing muscle weakness that occurred during an injury or illness. The following are a few conditions that physical therapy treats:
Joint conditions (for example: osteoarthritis, rheumatoid arthritis)
Neurological conditions such as, multiple sclerosis, Parkinson's disease, dementia, and stroke rehab
Back pain
Fall risk
Treatments can include physical exercises, stretching, hands-on therapy, and electrical modalities.
What is Occupational Therapy?
Occupational therapy provides rehabilitative services to individuals with mental, physical, or developmental disabilities. Whether someone has trouble performing day-to-day activities due to an illness, injury, or disability, occupational therapy is about teaching people how to work within their limitations so they can live as independently as possible. Occupational therapists may recommend various exercises or activities, offer advice, or suggest changing certain things in your everyday life. Occupational therapy can be useful for people of any age.2
Occupational therapy may be used to treat conditions such as:
Multiple sclerosis
Stroke
Repetitive injuries such as carpal tunnel syndrome or tennis elbow
Neurological injuries
Muscle, joint, and skeleton problems (arthritis, osteoarthritis, or broken bone)
And more
Treatments or strategies may include:
Teaching to use adaptive equipment
Education in self-care and wellness
Stroke rehabilitation
Therapeutic activities of daily living (for example: eating, bathing, dressing, and cooking)
Fall prevention
Difference Between Physical Therapy and Occupational Therapy
While physical therapy and occupational therapy often work together in the rehabilitative process, they are different disciplines with separate overall goals.
The primary difference between the two disciplines is that physical therapy helps patients cope with pain, increase range of motion, improve endurance, and develop gross motor skills. Occupational therapy focuses more on how clients perform activities and roles that are most important to their daily lives, including assessing and treating physical, behavioral, cognitive, or sensory skills.
There are, of course, more differences between the two professions than what is discussed above.
References:
Jiandani MP, Mhatre BS. Physical therapy diagnosis: How is it different? Journal of Postgraduate Medicine. 2018 Apr;64(2):69.
What is occupational therapy? Institute for Quality and Efficiency in Health Care. 2020 Aug. [cited 2022 December 21] Available from: https://www.ncbi.nlm.nih.gov/booksNBK561515